Owen Hargreaves will not rush back to fitness at Man City
Last updated on .From the section Football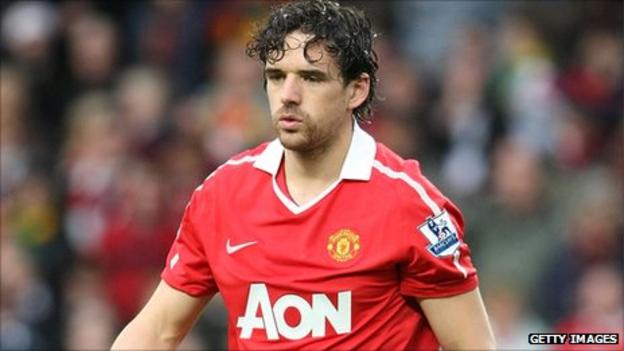 Manchester City's new signing Owen Hargreaves concedes he will not be able to rush back into action.
Hargreaves, 30, who was released by Manchester United after four injury-blighted years at Old Trafford, signed a one-year deal on Thursday.
The England international has been restricted to just four appearances in the last three seasons, and accepts he is still short of match fitness.
"It's important that you get back into a rhythm of playing," said Hargreaves.
"There's tons of games to come this season in various competitions."
That means a return to action against former club Bayern Munich in the Champions League later this month is unlikely.
Hargreaves ready to take his timeHargreaves ready to take his time
"I've never not played in the Champions League. It's pretty much been standard for me every season," he added.
"Bayern is a wonderful club - I had a great time there and won the Champions League. They are going to be tough opposition and it will be an exciting game for the club."
Calgary-born Hargreaves made his name with Bayern and shone in the 2006 World Cup for England before joining United in an £18m deal the following year.
He had attracted interest from West Brom after United opted not to renew his contract but feels joining City, expected to mount a serious Barclays Premier League title bid this season, is a greater challenge.
Hargreaves, aware competition for places will be fierce, said: "I like to measure myself against the best and I've always taken on challenges - I left Canada for Germany as a kid, I've left comfortable situations.
"It's a fantastic group of players here, and I hope that I'll be a good addition to these guys to help out.
"I've lived in Manchester for four years and this move just fits. You've got to trust your instincts."
Hargreaves played in the 2008 Champions League final victory over Chelsea in Moscow but then began to suffer with knee problems.
He lasted just 10 minutes of his comeback against Wolves last September and United opted not to renew his contract as a result.