Pressure on Hibs chief and manager, says Paul Kane
Last updated on .From the section Football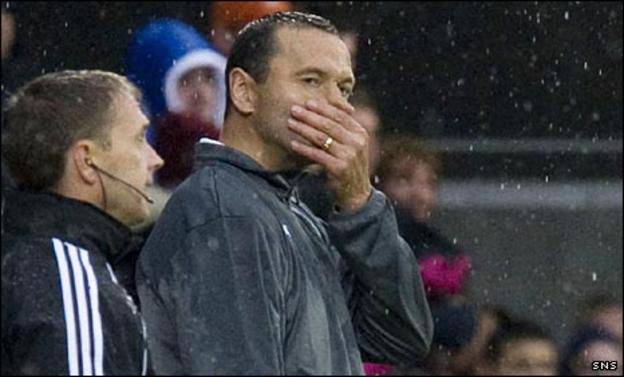 Former Hibernian midfielder Paul Kane believes the pressure is on chief executive Rod Petrie and manager Colin Calderwood as fans drift away with the team bottom of Scotland's top flight.
"I don't want to see Rod Petrie at the club," Kane told BBC Scotland after Sunday's 2-0 derby defeat by Hearts.
"He is too involved in the football side and going against the manager.
"And Colin Calderwood, he has had 10 months and 15 new players and I don't see us progressing."
Calderwood has won 10, drawn six but lost 22 of his matches since taking charge at Easter Road, where they have not won a league match since 26 February.
And Kane gave his own group of Hibs-supporting friends as an example of how the fans are deserting the Edinburgh club.
"Six guys have followed Hibs for 20 years and only two of them bought season tickets this year," he said.
"They are the diehard Hibees. That is the worrying situation.
"Three years ago, the club had record season tickets of about 11,500. We are now down to about 6,200.
"We have lost about 3,000 paying, loyal customers."
Kane thinks it is not just the results but the performances that have left many fans disillusioned.
"If you look at the last five games of last season, it has carried on from there," he said.
"It is the manner of the defeats that they have had.
"If you look at the Celtic game, not one shot and not one corner.
"The Inverness game, I wasn't at that game, but I believe Inverness deserved to a draw, although Hibs got a welcome three points.
"The Kilmarnock game could have been more than 4-1.
"In amongst the fans at Tynecastle, they are just not happy at all. I think the whole club's under pressure."
Calderwood had been linked with assistant manager roles at Nottingham Forest and Birmingham City during the summer and Kane says the manager's comments had left many fans thinking he did not want to remain at Hibs.
"Sitting in amongst the fans, what they are saying is, if he doesn't want to be here, just go," said the former Hibs midfielder.
Kane thinks that Petrie must take the blame for a high turnover of managers, with John Collins, Mixu Paatelainen and John Hughes all leaving ahead of Calderwood.
"He has been invovled with three managers, two of which were successful, one winning a cup and one taking us into Europe, and he has got rid of them," he said.
Kane also questions the commitment of owner Tom Farmer.
"Tom Farmer is the owner," he added. "If he doesn't think Rod Petrie is doing a job, he is the only one who can fire him.
"When we were 'Hands off Hibs' 20 years ago, he won the battle, but at the end of the day maybe he has come this far and there's time for a change."