Goalkeeper Tim Howard praises Everton resilience
Last updated on .From the section Football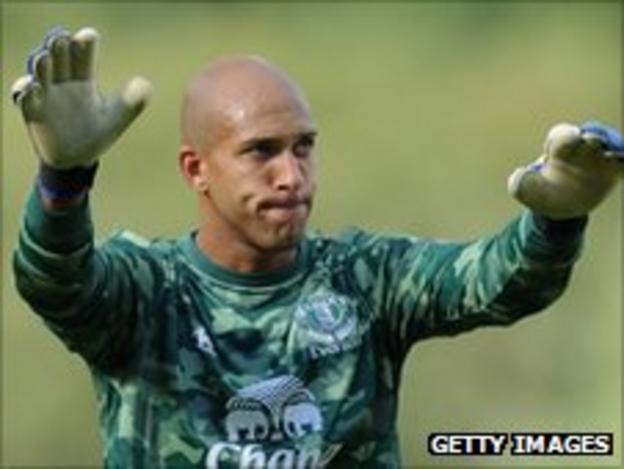 Everton goalkeeper Tim Howard has praised his team's resilience after securing an unlikely 1-0 victory at Blackburn on Saturday.
Mikel Arteta scored a late penalty to take the points after Rovers missed twice from the spot in the second-half.
Howard told BBC Radio Merseyside: "We stuck at it, it wasn't pretty, but we stuck at it.
"We seem resilient even when we don't play so well. We looked like we might get a goal because we were powerful."
Howard added: "We didn't play terribly well, I think the manager has mentioned that and he certainly told us about it.
"If we play like that we're going to lose most days. We rode some luck, and we needed it."
The Blues have to wait until after the international break before their next game, which will see David Moyes' side face Aston Villa on Saturday, 10 September.
And Howard says the side must continue to play with the same belief when they return to action.
"I remember two seasons ago we were winning games late on all the time," added the United States international.
"So it's important to keep at it and it's important for your own confidence that you can keep pushing forward and keep yourself in the game.
"That's what the Premier League is all about - keeping in the game. Very few teams can run away with it and win three or four nothing."