Frank Lampard confident Chelsea can push for title
Last updated on .From the section Football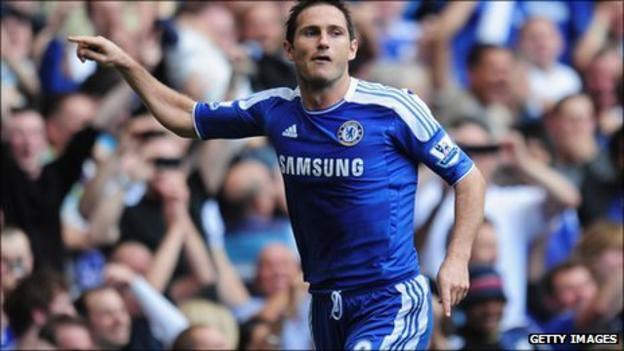 Chelsea midfielder Frank Lampard has shrugged off the sensational start made by Manchester's two clubs and insists the Blues can challenge for the title.
Manchester United thumped Arsenal 8-2 and City thrashed Tottenham 5-1 on Sunday as both maintained their perfect starts to the new season.
Chelsea have stuttered to two victories and a draw but Lampard says Chelsea are ready to prove their doubters wrong.
"It is early in the season and we're not in full flow yet," said Lampard.
Chelsea stumbled to a 3-1 win over Norwich on Saturday, having also struggled to see off West Brom after drawing their opener at Stoke.
But despite only being two points behind City and United at the top of the Premier League table their performances have so far failed to convince sceptics that they have what it takes to regain the championship.
"I have seen a lot of games and, if you look at Man City, they have looked very good but went to Bolton and conceded two," said Lampard.
"Teams at this early stage of the season are quite hard to read."
Chelsea are still adapting to life under new manager Andre Villas-Boas with the club also handing debuts to Juan Mata and Romelu Lukaku on Saturday.
But with City and United grabbing all of the headlines, Lampard said it was refreshing for Chelsea to fly under the radar for once.
He added: "It might be quite nice for people not to talk about us and the fact other teams have spent more than us. We can concentrate on ourselves.
"Sometimes it is quite nice when everyone is not expecting Chelsea to run away with it like in previous years. It leaves it up to us to prove people wrong.
"At the moment it is important to get the results and find that full flow."