Celtic's Euro reprieve hopes revived by Sion player row
Last updated on .From the section Football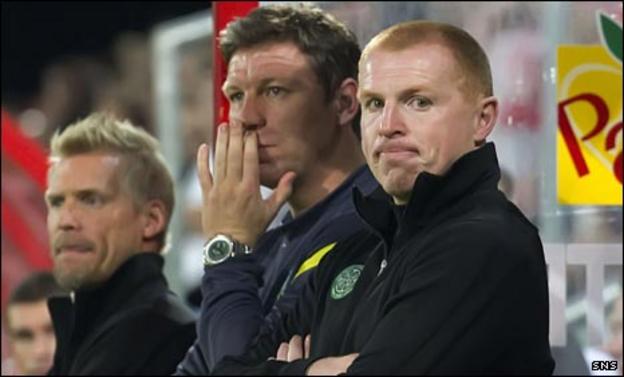 Celtic have been given renewed hope of being re-instated into the Europa League after Uefa insiders indicated that Sion are likely to be thrown out.
The Glasgow side lost 3-1 in Switzerland after being held to a goalless draw in the first leg.
But Uefa president Michel Platini said: "What is happening there is the rules have not been respected.
"FC Sion has not respected the rules of the transfer ban - they signed players and then played those players."
Celtic have written to European football's governing body protesting at the inclusion in the Sion squad of five players deemed by Uefa to be ineligible and a hearing expected on Tuesday.
Defeat for Neil Lennon's side for now means that Celtic joined Hearts and Rangers in exiting the Europa League - the first time since European competition began in 1956 that there have been no Scottish clubs involved beyond August.
And Platini suggested that the Scottish Premier League needed to take action to improve its member sides.
"I am very disappointed with Scottish football, which has such a great history in European football," he said ahead of Friday's Europa League draw, which paired Sion with Italians Udinese, Spanish outfit Atletico Madrid and French outfit Rennes.
"They have such great clubs and it is a shame none of them have qualified, but these things are decided on the pitch.
"The Scottish league have to look at this situation very seriously now.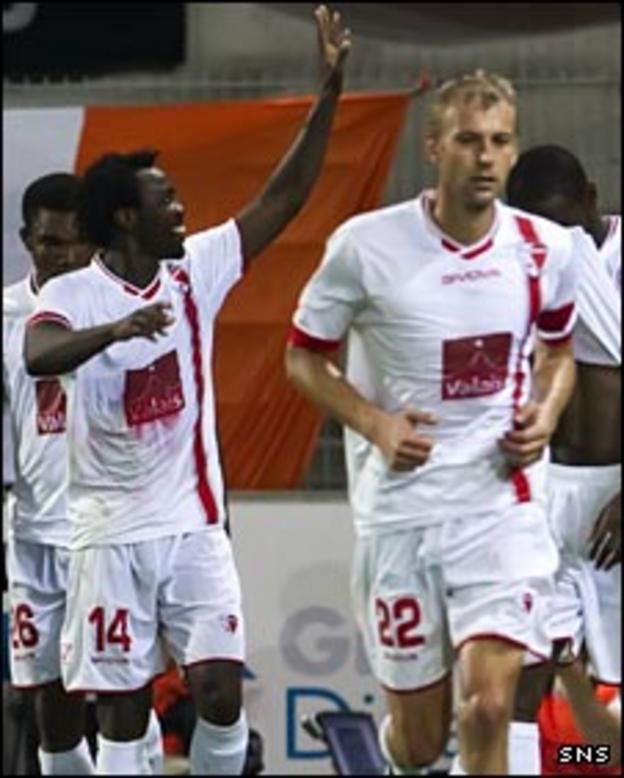 "It's a shame clubs like Celtic and Rangers are not doing very well at the moment, but maybe in another year they will."
Sion are in dispute over a transfer ban imposed by world governing body Fifa after breaching rules over the signing of Egypt goalkeeper Essam El-Hadary three years ago.
The Swiss Cup winners have since been found by Fifa, the Court of Arbitration for Sport (CAS) and the Swiss supreme court to have breached the transfer ban, but the club are challenging the decision in a local court.
Uefa general secretary Gianni Infantino said the case would be dealt with by the organisation's control and disciplinary body next week.
"The civil court ruling does not affect Uefa," he said.
"We will look at our rules and the Fifa rules. There is a ruling by Fifa, CAS have ruled, it went to the Swiss supreme court and everything was confirmed, but it has been challenged again.
"It is an interpretation question which is complicated - whether a two transfer-window ban means two transfer windows or parts of several transfer windows.
"Sion will be in the draw, but they can be subsequently excluded.
"The control and disciplinary body will make a decision certainly before the group stage starts."