Hearts players backing Sion against Celtic - Jose Goncalves
Last updated on .From the section Football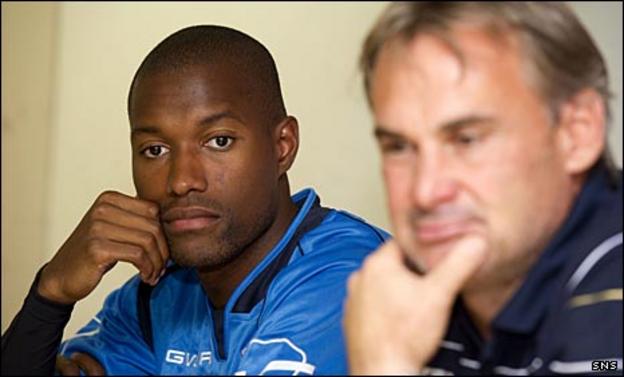 Sion defender Jose Goncalves claims he has had messages of support from former Hearts team-mates ahead of the Europa League play-off second-leg with Celtic.
Goncalves played in the first leg as the Glasgow side were held 0-0 at home.
"Yes, I still keep in touch with people in Edinburgh, Suso Santana and Marius Zaliukas the captain and yes, they wished me good luck for this game.
"I think they want us to win, yes. But I wouldn't say we were the favourites, it is 50-50," said the Portuguese.
Goncalves, who had two spells at Tynecastle, thinks his side can secure a victory at the Stade de Tourbillon.
"Of course we want to reach the group stages and so we have to concentrate," he said.
"We have a good team, a good team spirit and we can win the game, but it is 90 minutes and small things can make the difference."
Sion coach Laurent Roussey took no notice of Celtic manager Neil Lennon's claim that the Swiss side go into the game as favourites.
"I don't know really know their coach directly, so I don't know if he has said that to put pressure on us," said the Frenchman.
"We think we have a 50% chance of winning, the same as Celtic.
"What we are going to do is to be ready tomorrow at 8.30pm and concentrate to achieve our goal.
"We know what qualification could mean for our country, our club and our president, so we will do everything we can to be ready for the match.
"Getting to the group stages of the Europa League is our first goal of the season and it is important to us."
There could still be repercussions for Christian Constantin's club regardless of the result after they were accused of breaking a registration embargo.
Sion have five players in their squad - Pascal Feindouno, Mario Mutsch and Gabri, Billy Ketkeophomphone and Goncalves - who are, in the eyes of Fifa, ineligible to play.
Sion's European squad was approved by the Swiss FA, but the national association and the club have reportedly been warned by Uefa general secretary Gianni Infantino about possible sanctions.
However, the Court of Arbitration for Sport, which will rule on the issue, will not pass its verdict until after the second leg.
Asked if he was worried about the outcome, Constantin said: "No, I am not worried about that because the club is in the right.
"I am worried about the power Fifa has on world football.
"Fifa has too much power in football and I am worried for football in general.
"But not about us. The team who wins tomorrow will stay in Europe, I am confident of that."