Russian club close the deal to sign Samuel Eto'o
Last updated on .From the section Football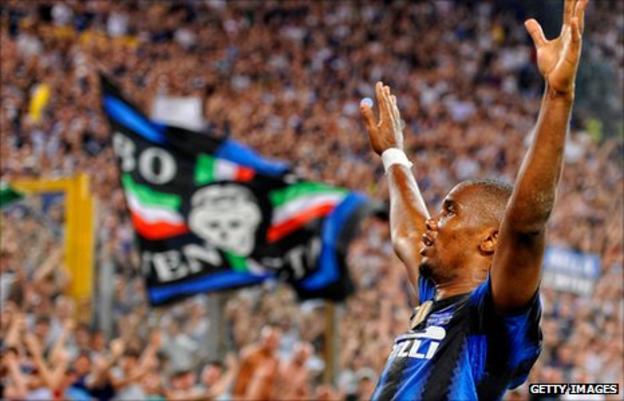 Russian club Anzhi Makhachkala have agreed a deal to sign Samuel Eto'o from Inter Milan for 21m euros (£18.4m).
Cameroonian international Eto'o, 30, joins on a three-year deal and will earn 10m euros (£8.7m) per season, BBC Sport understands.
Asked if Eto'o is worth it, club spokesman Alexander Udaltsov said: "Of course, it's a very good deal."
The transfer will be finalised when the striker undergoes a medical in Rome on Wednesday morning.
Earlier reports from Italy stated that Eto'o could earn as much as 17.5m (£15.3m) a year, which would have made him the best-paid player in world football.
However, Udaltsov told BBC Sport's news correspondent Dan Roan that Eto'o's annual salary would be significantly less and would put him behind Real Madrid's Cristiano Ronaldo, who reportedly earns 12m euros (£10.5m) a year.
"He's very well known over the world," Udaltsov, who confirmed Inter would receive 15m euros (£13.1m) now and 6m euros (£5.2m) in two months.
"He will help our club reach our ambitions of reaching the Champions League. Our club is in the process of building a big team and signing Samuel is a big step."
Eto'o, a four-time African Footballer of the Year, was not included in Inter's squad for their final pre-season friendly against Olympiakos on Sunday night.
Recently, his family moved out of the Eto'o home in Milan and into a hotel.
Talk of the striker's move to Anzhi - located in the troubled southern Russian province of Dagestan and owned by billionaire oil tycoon Suleiman Kerimov - had been heightened by a tribute paid by Inter Milan's midfielder Estaban Cambiasso.
"He's a player who has helped us a lot in the last couple of years," the veteran Argentina midfielder said on Sunday.
"His transfer hasn't been made official yet but in Inter's history there have been lots of great champions who have moved on to other things and afterwards Inter was still Inter - that's all that matters."
Eto'o, who has previously represented Barcelona, Mallorca and Real Madrid, is the most decorated player in African history, having won the Champions League three times, the Spanish and Italian leagues as well as two Nations Cups and an Olympic gold.
Anzhi has only had one full season back in the Russian top flight but has become a major player under an owner who who has poured money into the club.
In Forbes magazine's latest list of the world's richest people, Kerimov's net worth was estimated at US$7.8 billion.
Despite the dangers in Dagestan, where a low-level Islamic insurgency has made the republic very unstable, Anzhi have already managed to attract players such as Roberto Carlos and Yuri Zhirkov.
Anzhi players live and train at a training camp outside Moscow for security reasons and travel to Makhachkala for home games, flying about 1,250 miles 15 times a season.