Jake Livermore ready to take his chance at Spurs
Last updated on .From the section Football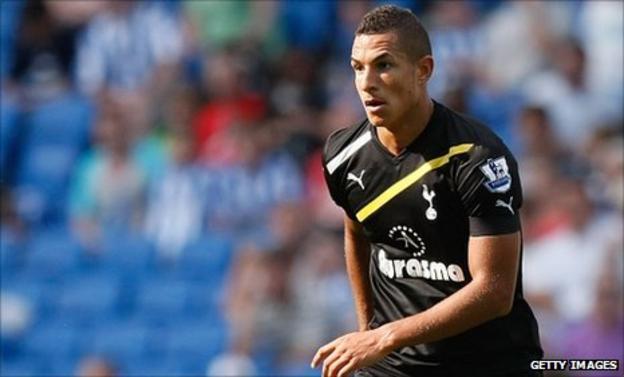 Jake Livermore has told Tottenham manager Harry Redknapp that he is ready to break into the first team.
The 21-year-old now hopes he will feature against Manchester United at Old Trafford on Monday.
"Hopefully I can keep myself in the team now. I believe I am ready for the first team but it's just a matter of getting the chance," Livermore said.
"It's difficult to get in [the team] because we have such a strong squad throughout. It's hard for the manager.
"The way we play at Tottenham, where we keep the ball and break the opposition down, I find it easy to get forward.
"I think I fit the way we play and hopefully I can do well," added Livermore, who has been on loan to six Football League teams since he started his Spurs career in 2006.
Livermore played in the heart of midfield in Tottenham's 5-0 thrashing of the Scottish Premier League side in the Europa League on Thursday, and his performance won him the praise of his team-mate Rafael Van der Vaart.
"Jake did fantastically and that's always good to see," the Dutchman said.
"Luka Modric is not playing at the moment but we had Livermore and Niko Kranjcar in there, he was fantastic too so it's a big compliment to those players."
Spurs take on Manchester United in their first match of the Premier League season following the .
But Tottenham have a woeful record at the home of the champions - without a win at Old Trafford since 1989.
"We have a few injured players but they look like they are coming back. As a squad we are very strong so I'd back us against anyone," Livermore added.
Emmanuel Adebayor could be set for his Tottenham debut if he completes his loan move from Manchester City in time.
Livermore would welcome the Togo striker with open arms despite the fact that he used to play for rivals Arsenal.
"Adebayor is a great player. He would be a great addition to the squad," he said. "Robbie Keane has gone now so we need to strengthen up front a bit."
Tottenham are also hoping to complete the signing of Lassana Diarra from Real Madrid before the close of the transfer window.