Robbie Keane 'not on holiday' at LA Galaxy
Last updated on .From the section Football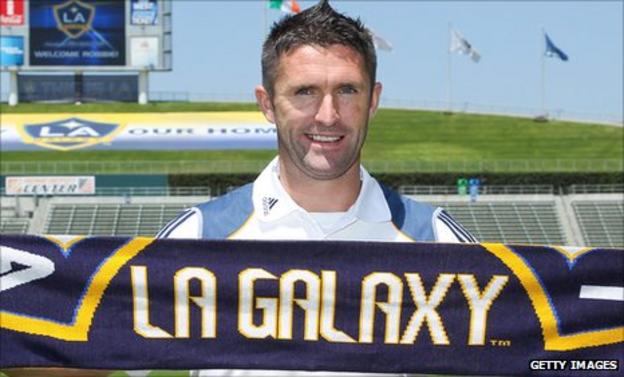 Robbie Keane says he is not moving to Los Angeles to take things easy and is also determined to carry on playing for the Republic of Ireland.
Keane has signed for LA Galaxy from Tottenham in a reported £3.5m deal.
"I'm not here on holiday, I'm excited and I'm here to win and score a lot of goals. I'm looking forward to hopefully bringing a lot of success," said the 31-year-old striker.
He added: "I've always been committed to Ireland and that won't change."
Keane, who has scored 51 goals for the Republic and won 108 caps, trained with Major League Soccer (MLS) pacesetters the Galaxy for the first time on Friday.
"As a player you always have expectations and pressure on you. I've had that since I was 17," added Keane, who has also had spells with Liverpool, Inter Milan, Celtic, Wolverhampton Wanderers, West Ham United, Leeds United and Coventry City.
"It's up to me to accomplish [my targets] and I think I can do it. I played in the Premier League for a long time and I did what I had to do - I felt it was time for a new challenge."
Keane was flanked by coach Bruce Arena and high-profile team mates David Beckham and United States international Landon Donovan at his Galaxy unveiling.
Former England captain Beckham, who played with Keane while training with Tottenham earlier this year, said: "We know he's going to score goals. He's scored goals everywhere he's been.
"Many players ask me about the league, our club, our players, our franchise, and I always speak the truth: It's a great league, a league that's growing. We've got great players and a great manager."
Keane also reaffirmed his desire to continue to play for the Republic of Ireland.
"Nothing will change unless the manager of Ireland [Giovanni Trapattoni] tells me different," he said.
The Irishman is expected to make his Galaxy debut at home to the San Jose Earthquakes on Saturday.