Mother of Chelsea star John Mikel Obi denies ransom demand claims
Last updated on .From the section Football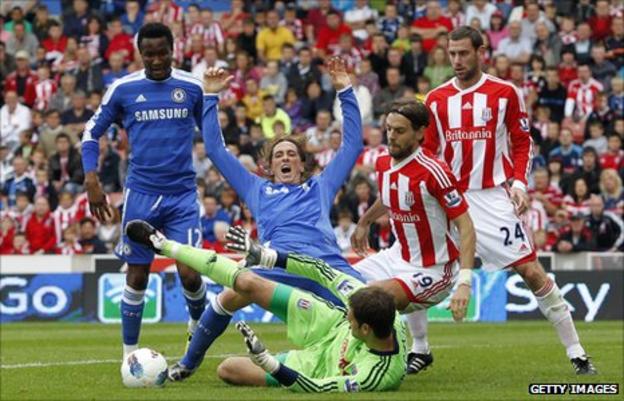 The mother of Chelsea and Nigeria star John Mikel Obi has denied that the family has had any ransom demand in relation to her missing husband.
Michael Obi was last seen in the Nigerian city of Jos on 12 August and his car was found there on Wednesday.
The player's agents, SEM group, said on Thursday that a "sizable" ransom demand had been received.
Asked about a specific ransom demand, Mrs Irosu Obi said nothing had yet been heard by her family.
"I didn't hear [anything] about him," Mrs Obi told the BBC World Service on Friday.
"Up till now we have never heard from the police, we didn't hear from them about how far they have got [in the investigation]," she said.
"We feel that is rumour, because if [the alleged kidnappers] were going to say anything, the family would hear first - but the family never has. We will keep waiting for a call."
It has been claimed that the family were told by the alleged kidnappers where the car had been left, but Mrs Obi denied that.
She said the car had been spotted by people who knew friends of the family and contacted them.
Mrs Obi told how she had searched for her husband once she realised he was missing.
She said the day Michael Obi went missing was no different to any other.
"Nothing happened that day - he didn't quarrel with anybody. He went to afternoon mass - every day he used to attend," she said.
"[But] after I closed my shop I came back home and I didn't see the car - I picked up my phone and I called his number.
"The number was ringing, ringing, ringing. There was no response so I called the number again and then I called my children and asked them whether they had seen him."
John Mikel Obi has made himself available to play for Chelsea this weekend in their English Premier League game against West Bromwich Albion.
Chelsea manager Andre Villas-Boas said Mikel's response had demonstrated "amazing mental toughness".
He said: "Mikel made himself available for training and selection so I will just judge it like that.
"Hopefully, he can get this thing solved as soon as possible that's what we hope for."