Rangers aim to broaden North American fan base
Last updated on .From the section Football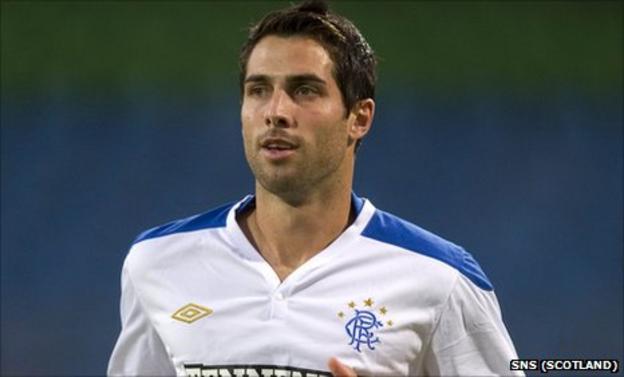 Rangers' chief operating officer Ali Russell believes signing more North American players can increase the club's popularity worldwide.
Carlos Bocanegra joined Rangers this week, making him one of three United States internationals at Ibrox along with Maurice Edu and Alejandro Bedoya.
"There is a great interest in Rangers in the US and Canada and what we have to do is grow that," said Russell.
"It's great for the club both on and off the park."
Rangers have previously had USA internationals DaMarcus Beasley and Claudio Reyna in their squad, but it is to former England winger David Beckham that Russell is looking to for most recent inspiration.
"I think the Beckham effect has had a huge effect on football in the States in particular and we need to get on-board and give people a rationale for supporting Rangers," said the Rangers director.
"We can undoubtedly create more awareness in the USA by having three international players here and we hope that it will open up new opportunities for us."
Edu is also delighted that his countrymen will be at Ibrox, as he can stop replying to the hundreds of texts they have been sending him in recent weeks.
Edu's USA team-mates have been bombarding his mobile phone with questions about Rangers and what life is like in Glasgow - and both are hugely excited at the prospect of pulling on the blue jersey and becoming part of Ally McCoist's squad.
"It's great news because I know that both players have been wanting their moves to Rangers to go through," said Edu.
"They have been picking my brain and asking me a lot of questions.
"Alejandro, in particular, has been on to me non-stop asking about the club, the city and where I live, things like that.
"But it's great for him to have that enthusiasm and, for Carlos, it's a big move as well.
"I know he is still very hungry to win things and he would love to help Rangers get back in to the Champions League next season.
"Tthat's the one thing he has yet to do in his career is play in European competitions, so that is a massive incentive for him.
"It's a move he will definitely be looking forward to, but both players will be great additions to our group."
Rangers reached an agreement with Swedish club Orebro to complete the transfer of Bedoya on Wednesday after the midfielder had signed a pre-contract in the summer.
The 24-year-old has now clinched a three-year deal with the Scottish champions, while the capture of Bocanegra on Wednesday will offer further Stateside appeal to the current squad at Ibrox.
"I like Carlos as a player - he's been involved in the national team as captain for a while now," said Edu.
"He's also got experience of playing in England for Fulham and is a very good leader, so I think he will come to Rangers and do a great job for the team.
"He will mix with our boys really, really well and he has a game that is suited to British football.
"He's a left-footed player that is very strong and he likes the physical aspect of the game."