Well coach Gordon Marshall wants keeper excellence
By John Barnes
BBC Scotland
Last updated on .From the section Football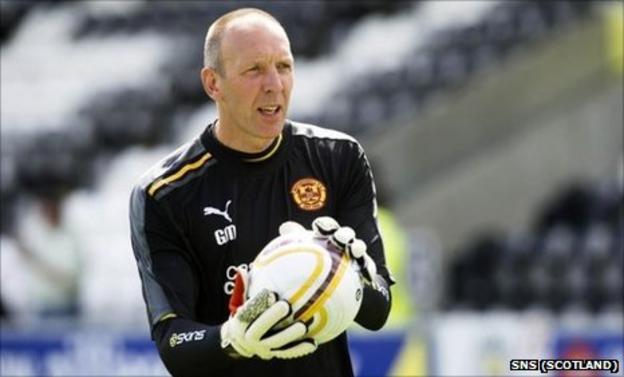 Motherwell goalkeeping coach Gordon Marshall expects Darren Randolph to build on and maintain his impressive start to the current campaign.
In Marshall's first week back at the club since 2005, Randolph kept a clean sheet against St Mirren to make it four successive matches without conceding.
"Hopefully it will continue," said Marshall. "Motherwell have not lost a goal this season.
"So it could be all downhill from now on, and it could be all my fault."
Marshall first joined as the Fir Park club's number one in June 2003 and made 77 appearances in a two-year period, but the 47-year-old left six years ago.
After spells coaching at Hibernian, Alloa and St Johnstone, he has returned to the Lanarkshire outfit after taking over from Stewart Kerr, who has left for Canada.
"It's less with the gloves now - it's more with the voice," said Marshall.
"I've been fortunate I've been given an opportunity here and, to be fair, that's my first week over and the goalkeepers have worked really hard.
"So far it's been great and I'm delighted to be here."
The former Celtic, Kilmarnock and Falkirk man insists the quality of goalkeepers helps people in his role.
"Darren Randolph was different class last year," said Marshall. "Obviously I watched him when we played against him when I was at St Johnstone.
"He had an extremely good season and he's started very well this year. He's a quality goalkeeper and hopefully things will be on easy street from here on in."
It's all change for goalkeepers, particularly the way they train and prepare for games, even from Marshall's days as a player.
"The way goalkeeper coaching works now is that there's a lot of psychology involved, " he said.
"Confidence is always a big part just to make sure the goalkeeper's okay.
"Preparation is probably the main thing along with psychology. Making sure he's in a positive frame of mind is kind of how you work at training, so he is prepared and confident enough to do his job on a Saturday.
"Before, you used to get neglected. Now people recognise the position and probably, along with the centre forward, they are priceless.
"Both can win you the game. One can score you the goals and one can keep them out.
"They're a special group, although a lot of folk say they get protected too much, although for the amount of work they do, they thoroughly deserve their protection."
Blunders usually put goalkeepers in the spotlight, but Marshall believes it is their ability to respond after a setback that will determine their value to a team.
"You all make mistakes it is how you react to it," he said.
"Most of the international guys make about three mistakes a year. You tend to work back from that so the less mistakes a goalkeeper makes the better he becomes and the more expensive he becomes for other clubs."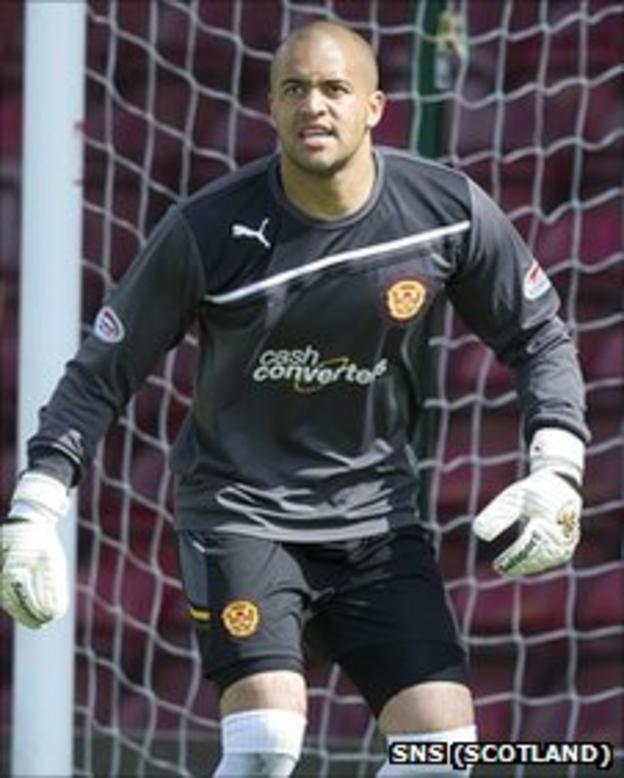 Marshall, who was capped once for Scotland in 1992 against USA, cites the performance of Allan McGregor in the recent international friendly against Denmark as an example.
"The goal he lost was blatant," said Marshall. "It's not that you can analyse the thing in great deal. It's just poor positioning, poor judgement.
"But Allan shows you his quality with the saves he makes right after it.
"He's a top-drawer goalkeeper and making these mistakes and then responding the way he does just proves that."
With Randolph dominating the first-team position, Lee Hollis has had to be content with warming the substitutes bench.
Marshall admits that is when a goalkeeping coach earns his wages by keeping the reserve keeper motivated.
"I think you must get harmony within the group," he said. "If you get that and a bit of respect for one another within the group, that makes things slightly easier.
"I think goalkeepers understand the situation. It's usually somebody's misfortune that you'll get the opportunity to come back in, whether it be injury or poor performances.
"It's just a matter of keeping the guys ready so that, when the opportunity does come along, they're ready and they're confident enough to do their bit.
"Once they are there, it's up to them how long they actually stay in."
Marshall is pleased to be re-united with Motherwell assistant manager Kenny Black after almost 30 years since they were youngsters at Rangers.
"I'm delighted to work with Kenny again," he added.
"I obviously played against manager Stuart McCall a number of times, but this is the first time I've worked with him and so far it's been great.
"Everybody has made me feel very welcome."