Leeds fans respond to chairman Ken Bates' 'morons' jibe
Last updated on .From the section Football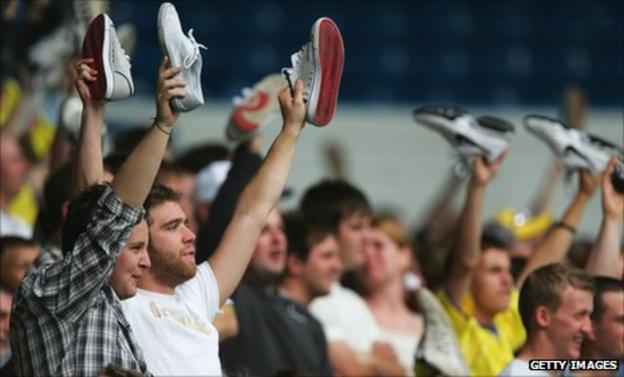 Leeds fans have hit back at Ken Bates' claims that they are "morons" - but insist they do not want to get into a personal battle with their chairman.
"We do not feel it is acceptable to refer to Leeds United fans as 'morons", said a statement on the Leeds Supporters' Trust website.
"We do not want to get into personal battles with Mr Bates or point out the numerous inaccuracies in his words."
The fans also challenged Bates' claims that he "saved the club in 2005 and 2007 when nobody else would."
The statement added: "The Leeds United Supporters' Trust is very keen to establish exactly what it is that Ken Bates 'saved' the club from."
"We would welcome clarification from Mr Bates on what he did save us from."
Hundreds of fans gathered before the defeat to Middlesbrough on Saturday to protest against the club's lack of investment in the team.
Bates, who became the controlling shareholder of Leeds in April 2011, holding 72.85% of the club's shares, said: "I'm saying I'm unimpressed by the demonstrations of a few morons.
"I ain't going anywhere soon. Some fans may not like me, or agree with me, but you're stuck with me."
The Supporters' Trust responded, saying: "The number of people demonstrating on Saturday was significantly more then 'a few'."
The BBC is currently not allowed to cover news conferences or send reporters or producers to speak to players or the manager of Leeds on match days, except in cases where the club is contractually bound to make access available.
Bates took the decision earlier this month because he was unhappy about a BBC Inside Out TV documentary being made about the club's ownership.
"Ken Bates did not save us from falling out with the BBC, newspapers, various other football reporters and commentators," the fans' statement said.