Celtic's Europa League opponents FC Sion in Fifa row
Last updated on .From the section Football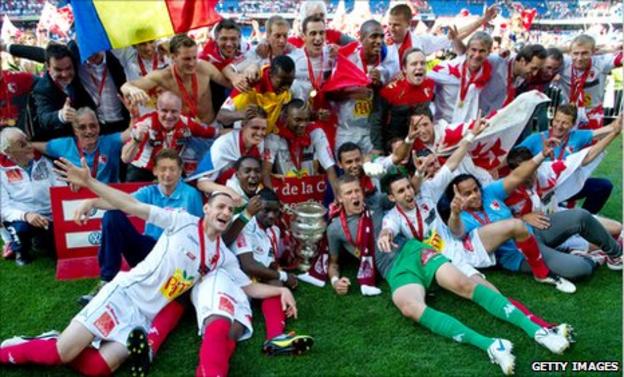 Uefa have joined Fifa in warning Celtic's Europa League opponents Sion that they risk sanctions if they field any ineligible players at Parkhead.
The Swiss League had initially enforced a Fifa transfer ban on the club but backed down as the players took their case to a civil court in Martigny.
Uefa warned that the players, Sion and the Swiss FA all faced sanctions if they did not adhere to the Fifa ruling.
The Swiss side face Celtic on Thursday in the Europa League playoff first-leg.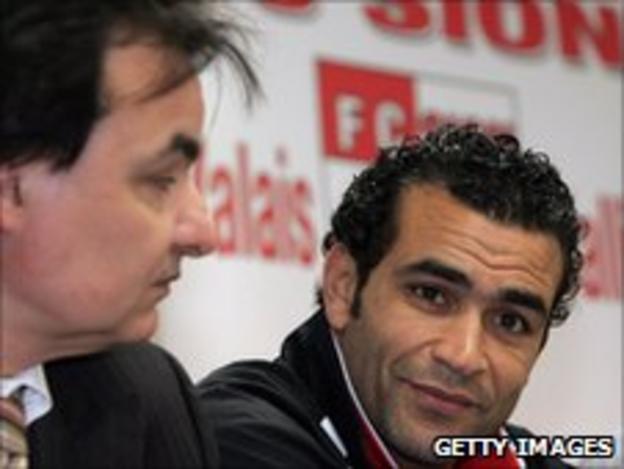 A statement from Uefa on Tuesday read: "If it turns out that a player or players on this list are not eligible to play, not only the players involved but also the club risk sanctions by Uefa and Fifa.
"Also the FSA [Swiss Football Association] could face disciplinary sanctions, having verified and approved the player list."
The statement continued: "Thus, it is up to the club and the national association concerned to take all measures they deem necessary to ensure the eligibility of registered players and the verification and validation lists of players sent to Uefa."
The dispute centres on the signing of six players by Sion during a period in which the club had a transfer embargo imposed by Fifa. Following the proceedings in the civil court, three of the players then took part in the weekend's draw with Lucerne.
The governing body's statutes ban any football-related disputes being taken to the courts and federations which fail to enforce this can ultimately be suspended.
"Fifa and Uefa, in a letter sent on 10 August, underlined the strict application of the regulations and informed the Swiss Football Association that they are expected to comply with them and to take the necessary measures to respect them," Fifa said in statement on Monday.
"Fifa does not put any pressure on the Swiss Football Association but, jointly with Uefa, only refers to existing regulations."
Before its ruling last week, the Swiss League admitted it had been put "in a very difficult situation" by the conflicting orders.
Sion, who face Celtic on Thursday, fielded Mario Mutsch, Guinea midfielder Pascal Feindouno and former Barcelona player Gabri in their 1-1 draw with FC Lucerne at the weekend.
The former Hearts player Jose Goncalves is another of the players affected by the row.
Sion were banned from signing players for two transfer periods, starting with the 2010/11 season, after Fifa ruled it had been guilty of inducing Egypt goalkeeper Essam El-Hadary to break his contract with Cairo-based club Al Ahli in 2008.