Hibernian still in the hunt for new faces
By Brian McLauchlin
BBC Scotland
Last updated on .From the section Football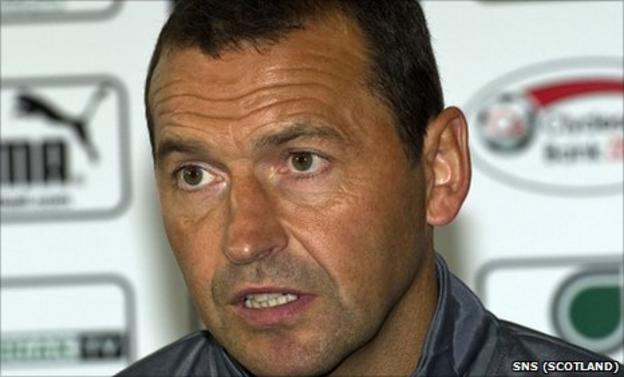 Hibernian manager Colin Calderwood is pleased with the way his squad is developing but is still keeping an eye out for new recruits.
Newcastle striker Phil Airey and former Aston Villa midfielder Isaiah Osbourne joined the Edinburgh club this week.
"We're almost at the number I want, we wouldn't want too many more, so it would be someone of exceptional talent that we would take," said Calderwood.
"There's good competition in all areas now, but we never stop."
Osbourne arrived on Wednesday on a two-year deal following his release from Villa, while Airey arrived 24 hours later on a six-month loan.
Together with forward Junior Agogo, who is fit following a thigh strain, they are in line for their debuts at Kilmarnock on Sunday.
Calderwood has monitored Osbourne's progress over the last three or four seasons and the Hibs boss anticipates more players could be free to move as the transfer window comes to a close.
He said of the 23-year-old midfielder: "I didn't think we'd get anywhere near getting him up here.
"He had offers in England, but he feels this is the best one for him.
"It's fallen perfectly for us and we were patient enough for that opportunity.
"Isaiah has a bit of experience, having been on loan at a couple of clubs.
"What I thought might happen was that players in that category would become available and there may be more before the end of August.
The former Northampton and Nottingham Forest manager thinks that changes to the rules regarding the number of substitutes in the English Football League means that there will be fewer opportunities for players.
"There must be some sort of thought policy with now only five substitutes instead of seven in the Football League," he explained.
"They still have a number of games, so they still need a big squad."
Calderwood also says that the attraction of playing top-flight football is much more of an attraction than playing down the leagues in England.
"It helps that the SPL is on television and, without a doubt, the profile is better than the bottom two leagues in England," he added.