Off The Bawl 11 August 2011
Last updated on .From the section Football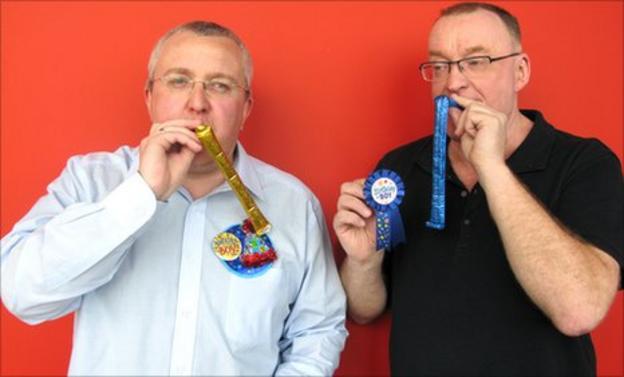 Greeeeeetings! Off The Bawl with Tam Cowan
Greeeeeetings! With the Europa Cup clash between Hearts and Spurs selling out in the sort of time it usually takes Vladimir Romanov to hire and fire three managers, Off The Ball this week paid tribute to Hearts, Hearts, Glorious Hearts.
But only until Wee Jim emailed to say: "I'm getting sick of this east coast media bias..."
You can't win, eh?
Our studio guest was former St.Johnstone and Partick Thistle hitman Roddy Grant. Which explains why we thought the first email read out on Saturday's show ("Enjoying this guest," said one listener. "Very intelligent comments.") was one held over from last week...
Another well-known name - ITN reporter, former OTB guest and diehard Hearts fan Martin Geissler - took part in the programme by bringing back a wee memory for his fellow Jambo.
"Can you ask Roddy if he remembers "Niddroid" who arrived at our hotel in Bordeaux in 1998 with a Scotland flag taped to a six-foot garden rake which he'd somehow managed to carry as hand luggage through three different airports? You wouldn't get away with that these days!"
Regular listener Spooky Cat from Dennistoun also rolled back the years.
She said: "I used to go to Caledonia Soul at the now defunct Woodside Social Club in Glasgow and remember witnessing first-hand the utter joy of Stuart "Hip Shaker" Cosgrove defying doctor's orders, flinging his zimmer to the side and getting down big style on the dance floor to some classic Northern Soul!"
Stuart looked suitably embarrassed but, in fairness, he was only 68 at the time...
Bizarrely, Cosgrove had another female admirer on Saturday's show. Fiona in Glasgow said: "I'm a first-time listener to Off The Ball and I'm loving this guy Stuart. Is he single?"
In the days of emails, texts, Facebook and Twitter, it was quite nice to receive a good, old-fashioned letter written in crayon.
Anyway, in the week Inverness Caley Thistle was voted the best value matchday experience in the SPL, here's a selection of the most petty and ill-informed emails and texts on radio...
VALUE FOR MONEY?
Quinster in Dumbarton said: "For £21.90 you could borrow 10p and buy Rangers (22 times)."
David Gray in Springburn said: "Forfar Athletic's the best day out. A few seasons ago, I paid £8 to get in (an extra 50p for the centre stand) and it was just £1.20 for a bridie that could have sank the Titanic."
Tatty from Hamilton said: "An Accies season-ticket costs £130 for an adult and two kids. Beat that!"
Jim the Jambo said: "Tam, remind Stuart that Hearts tried to make the Cup tie against his team "value for money" last season but Saints said they weren't interested! And he totally agreed with the decision."
(Stuart immediatley explained himself - like every other football fan, he's a complete hypocrite.)
Finally, with the schools going back next week, Ali Hussain from Dundee put it all in perspective. He said: "For £21.90 you could kit out four kids four with clothes from Primark."
SPOOKY OR WHAT??!!
In the week that Barrack Obama turned 50 and was taunted about his grey hair by the First Lady, we paid tribute to the silver surfers of Scottish football.
The four players immediately suggested by the listeners were Hamish French, Craig Brewster, Andy McLaren and veteran goalie Peter Bonetti.
Then - and this is the spooky bit - Jill from Dundee said: "Have you noticed that all four of those players were at Dundee Utd under Jim McLean?"
Now, why would any of Wee Jim's players have grey hair? Nope. we were totally stumped as well...
TEAM OF THE WEEK
THE COMPUTERS XI
(aka Printer Milan)
Stadium: The Dell
Manager: CD Rom Atkinson
Coach: Ruud Hewlet Packard
1/ iPaddy Bonner
2/ Gordon RAMsay (a very selective memory)
3/ Qwerty Auld
4/ Charlie Cookie
5/ Andrew Hard Driver
6/ Tommy BuffeRING (c)
7/ Wii Jimmy Johnstone
8/ Russell Laptopy
9/ Email Heskey
10/ Spam Collymore
11/ Mouse Matt Le Tissier
THE OFF THE BALL MYSTERY
A new feature on the show this season. In the wake of Amy Winehouse's fans leaving bottles of wine and vodka outside her flat as a shrine, we asked listeners to solve a mystery...
How would supporters remember the great and the good of Scottish football?
Cans of Kestrel for Gordon Strachan? A pair of brown loafers for Steven Pressley? A fishing rod and some chicken for Gazza?
Send your answers to the usual email address (offtheball@bbc.co.uk) and we'll name and shame the best and worst entries next week.
AND FINALLY...
The song that played us out?
Well, we got a request from a Motherwell man called Craig Whyte who asked us to play a wee tune he loves but has never actually heard in person.
It was, of course, the Champions League theme...
To join in the fun on this Saturday's show, call 0500 929500, text 80295 or email offtheball@bbc.co.uk