Sir Alex Ferguson: From Aberdeen to Old Trafford
By Alex Capstick and Simon Watts
BBC World Service
Last updated on .From the section Football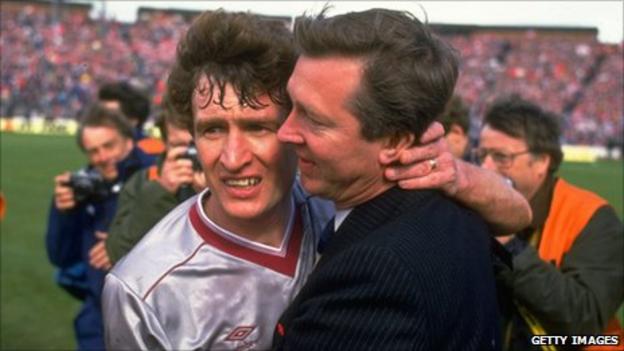 As Manchester United prepare to start the defence of their Premier League title, BBC World Service looks back to manager Sir Alex Ferguson's early success at his previous club Aberdeen.
Ferguson, 69, arrived at the Scottish club in 1978 from St Mirren and stayed for eight years, winning three domestic titles and four Scottish Cups.
The pinnacle was the 1983 European Cup Winners' Cup final in which the Dons beat Real Madrid 2-1.
After a brief stint as Scotland coach following the sudden death of Jock Stein in 1985 while still managing Aberdeen, Ferguson was lured to England a year later.
Having turned down offers from Tottenham and Arsenal, Ferguson was appointed manager of Manchester United in November 1986.
The rest, as they say, is history.
Ferguson, knighted in 1999 following United's historic Treble win, has always had a reputation as a fiery, no-nonsense manager who is purely focused on winning.
But what was Ferguson like to play for in his earlier days at Aberdeen? Former midfielder Neale Cooper recalls his playing days under Sir Alex.
"It was a dream come true. I went from ball boy to playing against Real Madrid," he said.
Cooper was one of the young players whom Ferguson nurtured, after he took over at Aberdeen.
One Friday night Cooper was cleaning the dressing room when the manager told him to go home.
At first, Neale didn't understand.
"Why's that?" he asked.
Then the manager informed him he would be making his first-team debut the next day.
"I hadn't even trained with the first team that week," Neale said. "I went home, told my mum 'I'm playing' and she started laughing! She said 'you can't be playing!'"
But he was - and he put in a good performance.
"Alex Ferguson wouldn't put you in a position if he didn't think you could do it," said Cooper. "This is the belief he had in you."
Winning mentality
Ferguson added young players like Cooper to the promising squad he had inherited at Aberdeen.
Willie Miller, Alex McLeish and Gordon Strachan all had talent, but - until then - the club had never really been able to compete with Celtic and Rangers.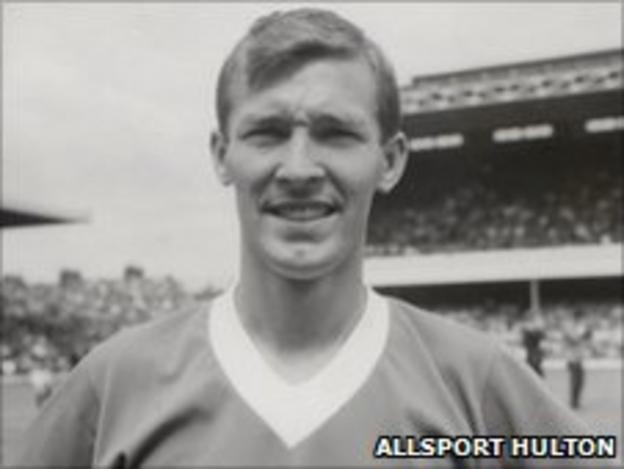 "They had a good nucleus of players," said Archie Knox, assistant manager at Aberdeen in the early 1980s. "Alex Ferguson gave them that winning mentality."
Ferguson was only in his early 40s and the former Rangers striker was still able to set an example on the pitch.
"In those days he would play in quite a bit of the training, and he still had that competitive edge even in the little five-a-sides. He was aggressive in everything he did," recalled Knox.
Ferguson expected high standards at all times - and that included off the pitch.
Cooper got the message when he bought a flat in Aberdeen with his first-team wages.
"He called me to the office six weeks later. He said you've been seen coming out of a flat - he had spies everywhere!"
Neale explained that the flat was actually his, but Ferguson insisted he moved out.
"I had to go back and live with my Mum for another three years. That was the sort of influence he had," said Neale.
But, perhaps because he is now a manager himself, Cooper thinks Ferguson had the right idea.
"Young boys in a flat would have been tempted to go out. He just wanted to protect us a bit. He's a hard person, but a very likeable one," said Cooper.
Sir Alex and the Tea Urn
Ferguson was at his harshest in dressing-room outbursts that were famous even in his Aberdeen days.
"If the team deserved a rollicking, he wasn't shy about dishing it out," said Knox.
That is something of an understatement, according to Cooper, who remembers one away game in Europe.
"We were 2-0 down at half-time and we were all petrified going into the changing room because we knew what was coming," he said.
The hosts had laid on refreshments for the visitors and when the manager exploded, they were in the firing line.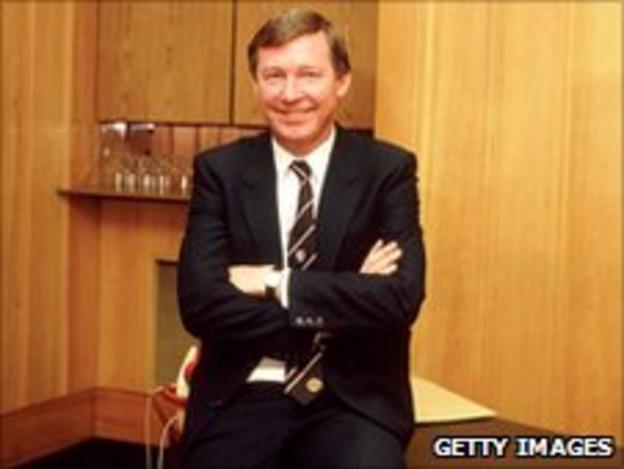 "He took a swing at this tea urn. We expected it go flying, but it never moved. I could see the pain in his hand - it was solid iron!"
The young players tried their best not to giggle.
"You're thinking 'I could laugh here'," said Neale. "But no-one laughed... and in the second half we went out and got the goals back."
It is a good example, in his view, of how Ferguson used his temper to get the best out of his players.
"With us, the reactions worked. Some people couldn't take it, they'd crumble… but that was just a sign of their characters," added Neale.
The mighty Real Madrid
Ferguson's management techniques eventually paid off and in 1980, Aberdeen won the Scottish title, ending 15 years of domination by the Glasgow clubs.
But the pinnacle of his achievements in Scotland came in 1983 in the European Cup Winners' Cup.
After defeating Bayern Munich, Aberdeen reached the final, against Real Madrid in Gothenburg.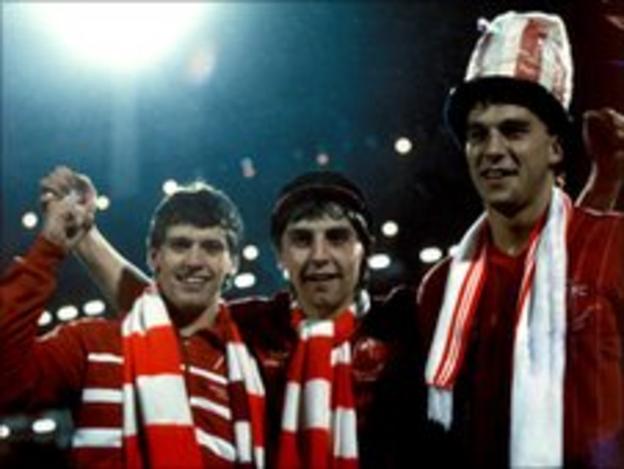 "I was sitting in the hotel room on the afternoon of the match with my room-mate John Hewitt," said Cooper.
"I just said 'can you believe us two young boys from Aberdeen are playing against the mighty Real Madrid tonight.'
"But we had belief in ourselves that we could win it. And he put that belief in us."
Hewitt would be Aberdeen's hero, coming on as a substitute and scoring a magnificent extra-time winner.
"He wasn't doing that well when he came on," said Cooper. "He wasn't doing what the manager asked of him and he was close to taking him off again!"
"But thankfully he never did. It was a wonderful goal that has made John a hero forever at this club."
Later that night, Cooper joined his family and the travelling Aberdeen supporters as they celebrated in the streets.
"It was the greatest night for this club - such a proud occasion and one that will be very hard to ever replicate," he said.
Fast-forward to 2011 and Sir Alex is about to embark on a 26th season with Manchester United. The club are favourites to win an incredible 20th domestic title and the manager, who flirted with retirement in 2002, shows no sign of slowing down.
You can hear Sporting Witness on BBC World Service, via iPlayer or download the podcast.