Defeat a wake-up call says Wales boss Gary Speed
Last updated on .From the section Football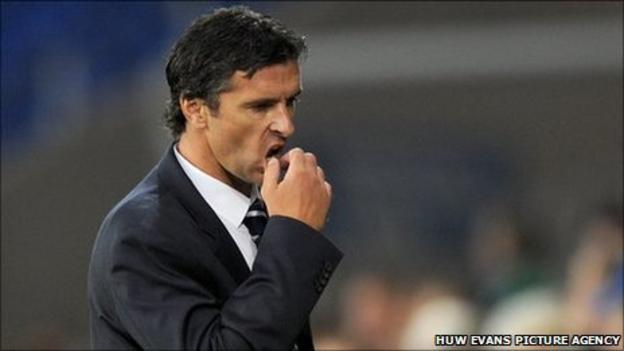 Wales manager Gary Speed claimed his side had been given a "kick up the backside" following their 2-1 defeat to Australia at Cardiff City Stadium.
Goals from Tim Cahill and Robbie Kruse gave the Socceroos the win in the first meeting between the nations.
Substitute Darcy Blake netted his first international goal late on for the hosts in the friendly international.
"I learnt that we have not progressed as much as I thought we had," said Speed after his fourth defeat in five.
"I thought we had improved a little bit more than that first-half performance showed.
"That was very disappointing, it was a carbon-copy of the England game [in March] where we started really poorly and finished strongly.
"But you can't give away two goals to sides like that because you rarely get back in it, we tried but it was too late."
Speed was able to name a near full-strength side for the friendly, with Gareth Bale - who played 90 minutes on his first Wales appearance for 10 months - Craig Bellamy and captain Aaron Ramsey all starting.
But they struggled to break down a well-organised Socceroos defence and Speed was disappointed that his side had again been made to pay for a slow start after finishing strongly.
"I was angry at half-time. They are all good players and they did not do themselves justice," Speed added.
"It has been a recurring theme, where we have started poorly and then improved and it is something we must look at.
"We are building, we are trying to progress and get to the next step which is getting people into positions to create chances. To get Bale, Bellamy and Ramsey into the game, we had been doing it well in training but it's different against a quality side like that.
"It shows how much we have to do. It's given everyone a kick up the backside, we need to knuckle down and improve and as poorly as we played in the first half it shows you have to stay in the game.
"We finished strongly and got a goal but if you are 2-0 down against those teams it is difficult to get back and it is a mountain to climb."
Speed also revealed that the decision to take captain Ramsey off at half-time was due to a calf injury, but he does not feel the problem is too serious as the 20-year-old Arsenal midfielder prepares for the start of the Premier League season.
"He has got a slight calf problem, I am sure it's nothing serious but we could not take any risks as there are games at the weekend and we have games in three weeks' time," said Speed.
Wales now face a tough Euro 2012 qualifier double-header, against Montenegro at the Cardiff City Stadium on 2 September and then play England at Wembley four days later.
Australia coach Holger Osieck was delighted with his side's performance: "I was happy that it was a preparation for our upcoming [World Cup] qualifiers.
"I tried a couple of things with guys in different positions and I got some good impressions from that.
"We moved the ball pretty well and played some decent football. We had a good structure defensively when Wales tried to build up, but they did not have the means to break through despite their individual class.
"When we were in possession we always had support for the man with the ball and it looked pretty decent considering we are at an early stage of the season."