Should Eto'o go on Russian adventure?
By Farayi Mungazi
BBC Sport
Last updated on .From the section Football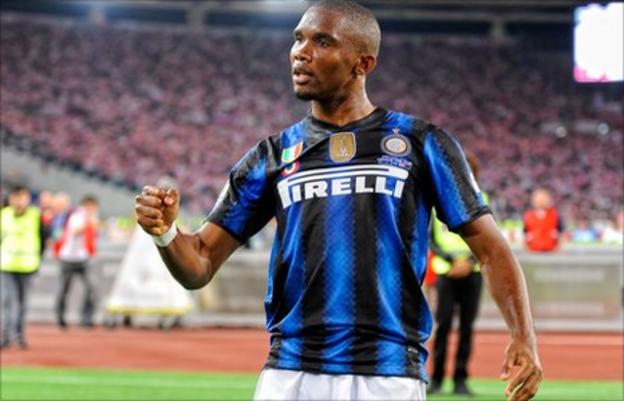 Football has long had a dysfunctional relationship with money.
This is why hardly anyone blinks at the prospect of Samuel Eto'o being paid an incredible US$32m per year.
The Cameroon captain is the subject of a multi-million dollar offer from an obscure but mega-rich Russian club called Anzhi Makhachkala.
The big-spending Russians recently signed Yuri Zhirkov from Chelsea, while former Brazil and Real Madrid leftback Roberto Carlos is their captain.
Despite his previous claims that non-Champions League clubs do not get his pulse racing, Anzhi are willing to offer Eto'o monopoly wages.
The Indomitable Lion's agent Claudio Vigorelli has claimed that terms have almost been agreed with the Russian side.
"We have almost reached an agreement with Anzhi. Now we hope that the clubs agree," he told La Gazzetta dello Sport, the Italian newspaper.
Earlier, the Inter Milan president Massimo Moratti confirmed that the Serie A club are in talks with Anzhi over a deal.
At 30, he is in the twilight of a notoriously short career and this would almost certainly be his last big-money contract.
So, the $32 million-dollar question is: should Eto'o end his career by cashing-in in Russia?
After all, the three-time African Footballer of the Year has earned millions already at Barcelona and Inter Milan.
He is, therefore, unlikely to plead poverty anytime soon.
One English Premier League player once told me that he left his home in Africa to make money and will, therefore, go where the money is.
That may not sum up Eto'o's attitude but who are we to begrudge him one last big payday before he hangs up his boots?
Granted, the Russian league is nothing compared to La Liga and Serie A, but Eto'o has nothing to prove to anyone because we all know his ability in front of goal.
He made his name in Spain with Real Mallorca before single-handedly spearheading the attack as Barcelona won the 2006 and 2009 Champions League.
His first season at Inter Milan yielded a treble under Jose Mourinho and the goals flowed again last season - 37 in all competitions.
In addition to his Champions League medals, Eto'o has also won Olympic gold (2000) and two African Nations Cups (2000 and 2002).
For my money, there has not been a better striker in world football than Eto'o in the last six years.
He will no doubt find himself the target of racist abuse in Russia but if the opportunity comes for one last big payday, then Eto'o should take the money and run.