Egypt and Cameroon are out of the Under-20 World Cup
Last updated on .From the section Football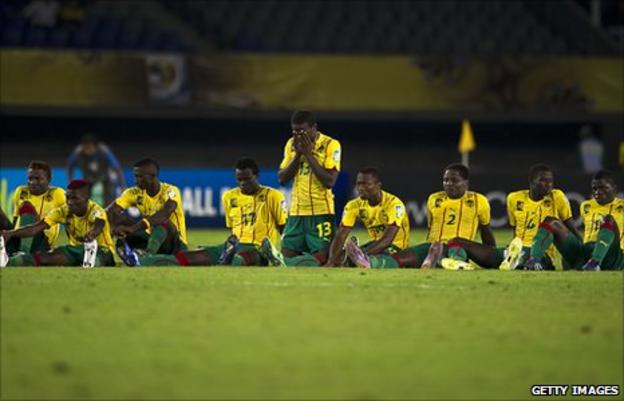 Cameroon are out of the Under-20 World Cup in Colombia as they lost to Mexico on penalties after a 1-1 draw on Tuesday.
Franck Ohandza put Cameroon ahead in the 79th minute before Carlos Orrantia equalized two minutes later.
Cameroon missed their first three penalties in the shootout while Mexico converted its three.
Mexico keeper Jose Rodriguez saved from Ohandza before both Idriss Nguessi and then Christ Mbondi hit the woodwork.
Erick Torres, Ulises Davila and Marvin Pinon all found the net with confident shots for Mexico.
Cameroon coach Martin Ndtoungou Mpille said a lapse in concentration led to the equalizer, and then the pressure got to the players in the shootout.
"There is no other explanation (for the missed penalties)," he said.
Egypt also got knocked out as they lost 2-1 to six-time champions Argentina - all three of the goals came from the penalty spot.
Roma's Erik Lamela scored Argentina's two spot kicks - the first just before half-time and the second in the 64th minute.
Midfielder Carlos Luque had been fouled inside the area both times.
Egypt's penalty was converted by striker Mohamed Salah scored in the 70th minute after midfielder Saleh Gomaa was shoved by an Argentine defender inside the area.
The Egyptians complained after the game claiming that Luque was not touched for the first penalty.
But Egypt coach El Sayed Diaa later played down the complaints.
"It's football, maybe there were mistakes, maybe not," he said.
"We have to accept it. Egypt played very well, we just couldn't get the win."