Report warns SPL clubs on financial future
By Chris McLaughlin
BBC Scotland
Last updated on .From the section Football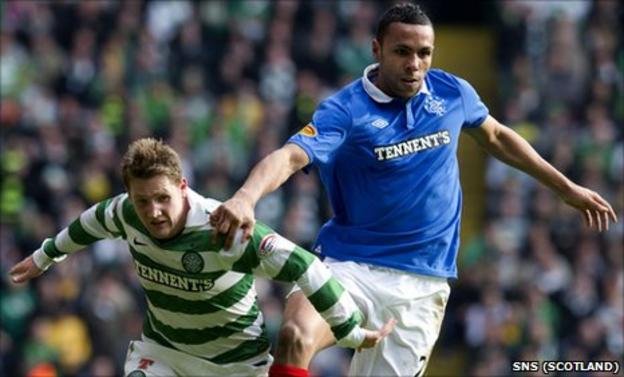 Scottish Premier League clubs face going bust if the fans continue to stay away, according to a top football finance analyst.
Attendance figures show that almost 600,000 fans have stopped attending SPL games in the past five years.
David Glenn, from accountancy firm Pricewaterhouse Coopers, told BBC Scotland many clubs will not survive.
However, the 2011 annual report on Scottish football finances shows clubs overall making a small profit.
The latest report appears to show that clubs have heeded grim warnings from the past with regards to debt.
The 12 SPL clubs combined posted their fifth bottom-line profit in the past six years - this time with a headline profit of around £1m.
But Glenn is concerned with where clubs go now.
"Each club gets around £1m a year from the broadcasting deal, therefore the majority of the income for Scottish clubs is actually coming from fans coming through the turnstiles," said Glenn.
"Clearly the doomsday scenario is that the clubs just cannot survive and some may go under.
"It is all about clubs continuing to cut their cloth accordingly and they are probably going to have to be selling clubs just to balance the books.
That is not a good message for fans who will be wondering about club ambition.
"My message to the fans though would be - if you want your club to survive, you are going to have to accept that they have to reduce the wage bill and sell their best players when they become of worth," said Glenn.
The SPL remain bullish, despite the grim forecasts.
The league's chief executive Neil Doncaster says Scottish football is posting positive results in a very tough market.
"We are in the middle of a world economic downturn. That is the reality," he told BBC Scotland.
"It is hitting supporters in the pocket but our clubs are responding to that with competitive pricing packages.
"The facts are that this report shows our clubs making a profit for the season before last.
"That is incredibly positive."
Champions Rangers were boosted by reaching the group stages of the Champions League and were the most profitable club in season 2009/2010, posting a gain of £4.2m.
Rivals Celtic recorded the largest loss at £2.1m.
Net debt grew marginally to £109m - with only Hamilton and St Johnstone operating debt-free; half of the clubs recorded a rise in their debt.
However, those figures don't tell the whole story.
"The headlines look relatively attractive," said Glenn.
"But if you dig a little deeper into those numbers, Hearts and Kilmarnock had debts written off totalling around £8m.
"So actually there is an underlying loss there of about £7m."