Botswana's facilities contrast success on the pitch
By Mtokozisi Dube
BBC Sport, Gaborone
Last updated on .From the section Football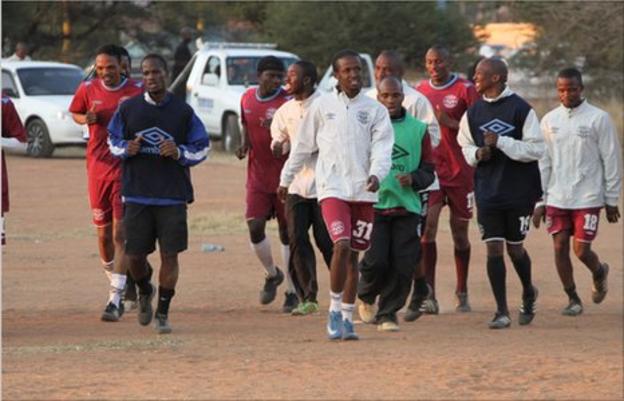 While Botswana's profile continues to rise ahead of their maiden Africa Cup of Nations appearance early next year, the country still faces huge challenge in terms of proper training facilities for clubs.
The southern African country's training grounds contrast with the recent rise in African football and the country's plans to have a semi-professional league.
Of the the 16 Premiership clubs, only army side Botswana Defence Force have have proper training pitch.
The well maintained facility is inside the Sir Seretse Khama Barracks in Gaborone, where the team is based.
But it is the desert-like training grounds used by the other 15 clubs that stand in the way of Botswana's progress.
National Under-23 coach Daniel 'Chicco' Nare says that if this issue is not addressed, local players will never reach higher levels in their performances.
"I've noticed that adaptability to the ball is poor mainly because players train on dusty grounds and then play on artificial turf,'' Nare told BBC Sport.
''so they don't reach their desired technical levels because of that,'' he added.
''It becomes a challenge when they go for international matches because there are certain things that they are not used to because of the facilities' they train on.''
''Players cannot execute good tackles and diving headers because we don't practice them as we fear that they may get injured in the process."
A resolution known as Besele declaration was passed in 2008, requiring all clubs in Botswana to have proper training grounds by the beginning of the 2012/13 season as part of the plans to turn the local league into semi-proffessional.
But only a few clubs have shown enough of an interest in improving their grounds.
The closure of the National Stadium in September 2008 has seen teams like champions Township Rollers, Mochudi Centre Chiefs, Notwane, Botswana Meat Commission (BMC) and Police XI play their home games 60 kilometres outside the capital at the Molepolole Sports Complex, which has an artificial turf.
BMC's midfielder Hillary Madzivanyika believes the artificial surface even makes things more difficult.
"It's quite a challenge because when you train and play games on the same facility you get used to it and can easily time things like the bounce of the ball.''
''Players usually suffer severe bruises, ankle and knee injuries because of these grounds."