Nicklas Bendtner reveals he wants to leave Arsenal
Last updated on .From the section Football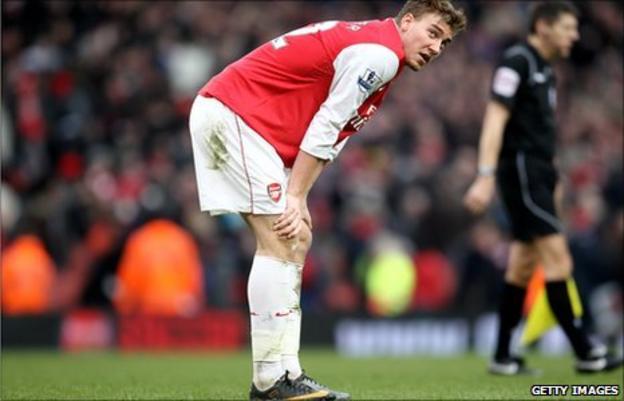 Denmark forward Nicklas Bendtner has confirmed he expects to leave Arsenal this summer for a club where he is "happy and plays every week".
The striker, 23, who suffered from injury for most of last season, has been linked with Hamburg and Stoke.
"I have done my part as well as I can and it's up to Arsenal now to sort it out," he said.
"Hopefully it will be sorted soon but, as I said to the Danish press, when I know something they will."
Bendtner made the comments at Hampden Park as the Denmark squad trained ahead of Wednesday night's friendly against Scotland.
Asked if Stoke City were one of the teams he had spoken to, Bendtner laughed then replied: "I can't say anything about who I have been speaking to, but hopefully it will all get sorted out soon.
"I would like to play at a place where you are happy and play every week, that is the most important thing for any football player and hopefully that will happen soon."
Denmark coach Morten Olsen believes Bendtner needs to get regular first-team football.
He said: "Nicklas has been injured for a year but he can be a good player again."
Bendtner has made 98 appearance for Arsenal in the league, scoring 22 goals, and has 38 caps for his country.