Lennon says Scottish clubs can cope in Europa League
Last updated on .From the section Football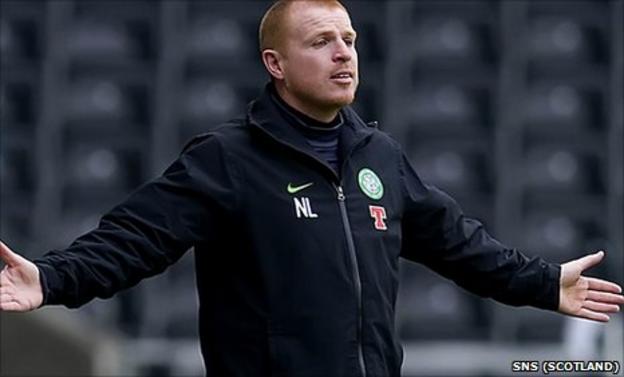 Neil Lennon does not believe that Scottish clubs are no longer strong enough for the Champions League.
Celtic were paired with Swiss side Sion in the Europa League as champions Rangers joined them in the draw after exiting the top-flight competition.
"Rangers got knocked out during the week obviously," said Lennon.
"But, in the last decade, both the Old Firm clubs have made European finals and both clubs have made the last 16 of the Champions League."
While Celtic and Ally McCoist's Rangers, who face Slovenian outfit Maribor, will have high hopes of making the Europa League group stage, Hearts are up against it after being drawn against Tottenham Hotspur.
"I don't accept that we are just a Europa League country," said Lennon, who fondly remembers European nights under Martin O'Neill.
"These things can come in cycles.
"No-one could have envisaged the decade that we had going into that decade.
"Maybe Rangers were predominately stronger than us for European games with the European-quality players that they had, but certainly after Martin came in, that all turned round for us.
"So that was a transitional period, and from our side of the fence we are hoping that we can make inroads into Europe again and I'm sure Ally will be exactly the same."
Lennon thought the standard of the Europa League was good.
"Hearts have drawn Spurs and there is not many better teams in England than Tottenham," he said.
"And, as the competition progresses, the quality of teams get better and better.
"From where we are at the minute, it will be a good test for us.
"And it is very important for us to get through and we will be doing as much preparation on Sion as we can."
Celtic were also knocked out of the Europa League at the qualifying stage last season.
"I hope we have all learned from that," said the former Celtic skipper.
"There are no guarantees, obviously, but I think we are better equipped this time than we were this time last year.
"We have been together for a while, the players know each other a lot better, and we have a fair idea of what our best team is."