Malky Mackay dismisses Cardiff City pressure to succeed
Last updated on .From the section Football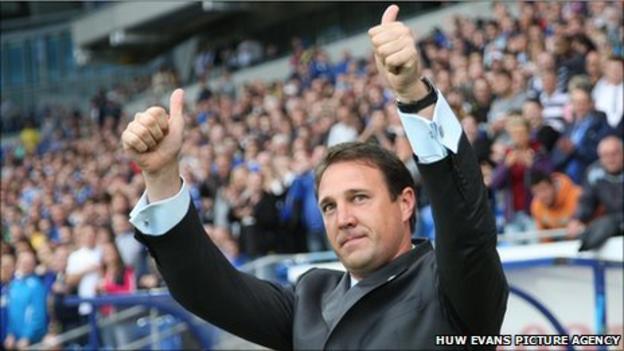 Cardiff City manager Malky Mackay has shrugged off claims by predecessor Dave Jones that he will be under pressure to achieve instant success.
Jones was sacked in May after two consecutive defeats in the play-offs.
But Mackay insists he has no intention of measuring himself against the record of previous Cardiff managers and feels under no extra pressure to succeed.
"There's pressure on any manager that takes any job. There's expectations on them," said Mackay.
"But I don't feel pressure on me at all. I'm working with good people here just now, I've brought good people in and I'm certainly confident in my own ability in terms of the way I want to go about my job, and the way I like to structure my football club."
Mackay has certainly been forced to put his own stamp on the Cardiff squad, having been forced to replace 12 players from last season's roster.
The 39-year-old Scot has been coy about setting himself specific targets in his first season, repeating at every opportunity the old adage that his side will go out to try to win every match and stressing the squad's lack of strength in depth.
"I'm an ambitious man and I've got ambitious players at this football club," he said.
"We want to do as well as we can. I think you'll find every team in this division on day will want to go for promotion."
Jones, who lost in the Championship play-off final in 2009 and in the semi-finals a year later, believes the fans will show little patience if Mackay's re-built side begin to slip down the table.
The new manager accepts that comparison with his predecessor are inevitable - even when it comes to his touchline demeanour - but he insists that focusing too much on what has gone before will be counter-productive.
"I'm not about putting myself up against previous managers at clubs," said Mackay, whose managerial career began at Watford in 2009.
"If I'd have done that at Watford, I'd would have been worrying every day concerning Graham Taylor. He was a fantastic help to me at Watford, Graham.
"I'm about me and my staff and my football club. I'm proud to be here and proud to have the group of players I'm working with.
"I'll be working on behalf of our fans. I'm the custodian of the football club because the club is about that fans."
While keen to deflect any talk of pressure on his own shoulders, Mackay was happy to comment on West Ham United's predicament, who Cardiff face in their opening match of the season at Upton Park on Sunday.
"There's going to be a huge expectation on West Ham, like [there was] on Newcastle two years ago," said Mackay, who won promotion with the Hammers as a player in the 2004-05 season.
"There'll be an expectation heaped upon them by the media and there'll be a spotlight on them [throughout] the whole season, in terms of the football club and the manager to win promotion.
"Certainly, that was the case when I was there - we were in the Championship and they has lost in the play-off final the year before and there was a huge expectation on us to go up."
Watch an in-depth interview with Malky Mackay and a preview of Cardiff City's season on Sport Wales, BBC Two Wales at 2130 BST on Friday, 5 August