David Goodwillie deal eases bank pressure at Tannadice
By Jim Spence
BBC Scotland
Last updated on .From the section Football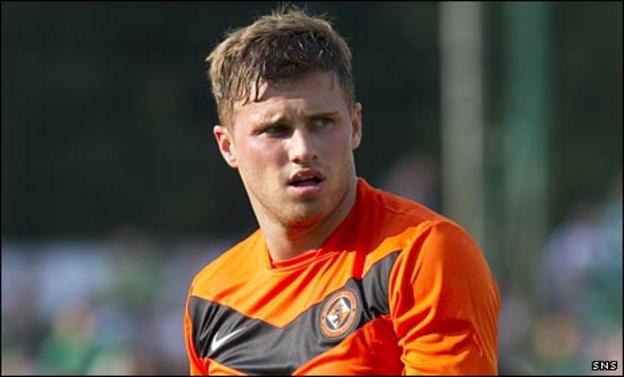 David Goodwillie's £2.8m sale to Blackburn will ease the huge pressure being exerted on Dundee United by its bankers, says the Tannadice chairman.
"The money, just about all of it, will go in debt reduction for the long-term stability of this club," Stephen Thompson told BBC Scotland.
"This club has been under enormous pressure from the bank. It should take some of the pressure off.
"We are still in debt, but this should take about a third of our debt off."
Blackburn beat Rangers to the signature of Scotland striker Goodwillie on Wednesday.
"It is a fantastic deal for the club," said Thompson. "It will give us security financially I think for a few years now.
"I put a starting off value for him and that's what we got, plus more.
"I feel that the bank will be off my back for a while.
"They had said that, if you don't sell a player, we'll will think about reducing our bank facility and that would have had huge effects on the club.
"I don't know what we would have to be done to be honest - we can only put so much money in.
"We have an overdraft facility and they talked about halving it, but we've got the deal through now and we'll move on."
Thompson said the sale of Goodwillie showed that United must remain committed to their youth set-up.
"We have proved we can develop our own talent and sell them on for the right price," he said.
The sale of players like Goodwillie should prevent United suffering problems that could face other Scottish clubs in the months to come.
"It is very clear that the banks want their money back," added Thompson. "They don't want to be involved in football.
"They want debt reduction. They want their money back so they can get out.
"One day, interest rates will go up and put other clubs under pressure."