Valdimir Romanov says Jefferies didn't want coaching help
Last updated on .From the section Football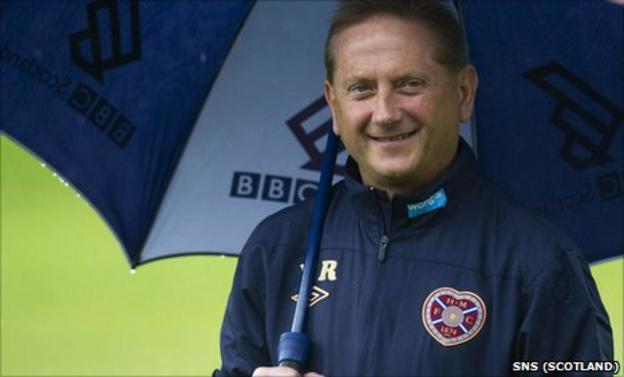 Hearts owner Vladimir Romanov has revealed he told Jim Jefferies he was planning to bring a European coach to Tynecastle weeks ago.
Speaking exclusively to BBC Scotland, Romanov said he had to take steps to remedy 'terrible' football at the club.
"We have offered him a number of times to find someone who has some European expertise and knowledge," the Hearts owner said.
"We were not looking to replace anyone with this. We were looking to help."
Jefferies was removed from his post as Hearts manager earlier this week and replaced by former Sporting Lisbon coach Paulo Sergio: a decision Romanov attributed to a poor end to last season, which saw the club go 15 matches without a win.
"I understand that local people, local managers have a local mentality and are under the influence of various local things," Romanov said .
"I've decided to try to go with a European manager."
But the Russian businessman maintains that he had a good relationship with his outgoing manager.
"Getting to Europe is a big achievement and obviously we are grateful to Jim for that," the Hearts owner added.
"It was very good to work with him. We had a good understanding.
"It was a hard time, but when I think about the situation and the last 15 games, there is not a lot of achievement and not a lot of good results."
And while it has been reported that Paulo Sergio has been given the target of , Romanov says progress is more important than league position.
"We have fantastic players like Rudi Skacel and Mehdi Taouil, who are capable of igniting the game.
"When I see that they are not able to do that, I see that there is no progress. The game is not an attractive game."
The Hearts owner issued a statement on Wednesday in which he compared the media to 'monkeys' and he remains convinced that their reputation has suffered more than the club's over Jefferies dismissal.
"They are trying to expose us as fools, but that is not the case. We are trying to make a change for the positive.
"The press overall is not doing its function of providing information, they are providing someone else's opinion.
"When the information is fed purposely to form an opinion that is not true, that is like a criminal. For me it is the same criminal activity.
"Even to compare it with the war. The war is also bad thing, but sometimes the war mobilises people and strengthens certain things."