Paul Jewell has 'fierce' Ipswich Town drive
Last updated on .From the section Football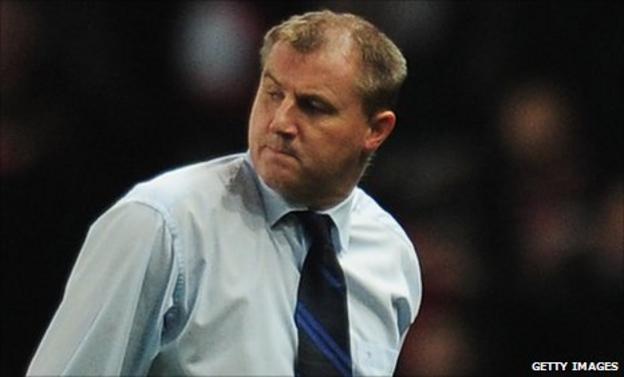 Ipswich Town boss Paul Jewell has spoken of his "fierce ambition" to win promotion, but has warned his side are some way from where they should be.
Jewell has made seven signings this summer in a bid to turn around the Suffolk club's fortunes.
Town have failed to finish in the Championship play-offs since the 2004-05 campaign.
"I'm six months into this job and I'm fiercely ambitious and excited about the future," he told BBC Radio Suffolk.
"But I think some people are of the mindset we're going to romp the league.
"I don't want to dampen anybody's enthusiasm, because we are excited for the new season.
"But I think we're still some way from actually getting to where we want to be, we're getting there slowly."
The former Wigan boss had been keen to bolster his squad even further ahead of Saturday's season-opener against Bristol City, but admits it is an unlikely prospect.
"We were hoping that one would happen before Saturday, but it's dragged on a little bit," he said.
"The club we are trying to get the player from are not being particularly helpful, in fact they're being down right rude, not returning phone calls and stuff.
"It's been a disappointment this week, but it's a long season, there's no short-term fix, it's going to take a while.
"I want to bring another centre-half in, maybe two.
"I don't think it's any secret we've been looking for a centre-half for a while, but so is most of the division."
Jewell added that full-back Shane O'Connor is still likely to leave Portman Road, despite failing to complete a loan move to Crawley.
"Crawley wanted to take him on a six-month loan, Shane doesn't want to do that, which is understandable," he explained.
"He's trying something else, his agent's trying to fix something up.
"There's a few players that are on the fringes that are frustrated and I fully understand that, he's better playing somewhere even if it's not here kicking his heels."