St Patrick's Athletic players in Europa Cup U-turn
Last updated on .From the section Football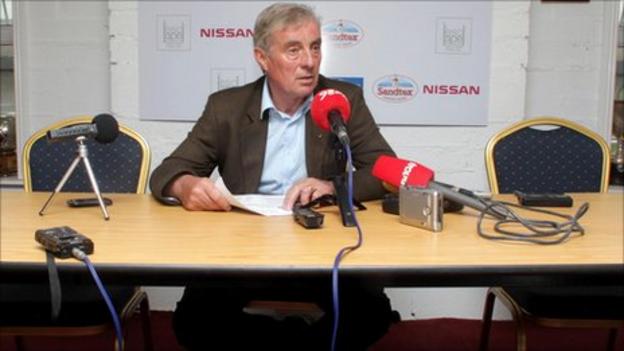 The dispute which threatened Thursday night's Europa League qualifier between St Patrick's Athletic and Karpaty Lviv has been resolved.
St Pat's players announced on Thursday morning that they were boycotting the game over a cash dispute with the club's owners.
However, an agreement on the players' requests has been made and the second leg will now go ahead in Dublin.
The League of Ireland side trail 2-0 in the third round qualifier.
The players had rejected an offer from the owners relating to bonus payments and compensation for loss of earnings.
This followed an earlier refusal by the players to take part in any media activities.
A resolution which allowed the match to take place was reached on Thursday afternoon.
"Following discussions between our representative Stephen McGuinness of the PFAI, Fran Gavin of the FAI, and a club official, we can confirm that we have reached an agreement with the club in relation to our requests," said a players' statement.
"We never expected this matter to go as far as it did, and we would like to thank our club's fans for their support during this time.
"We have never lost focus on the game and are very much looking forward to the encounter with FC Karpaty Lviv."