Clubs reveal all in BBC Sport Price of Football survey
By Stuart Rowson
BBC Sport website Editor
Last updated on .From the section Football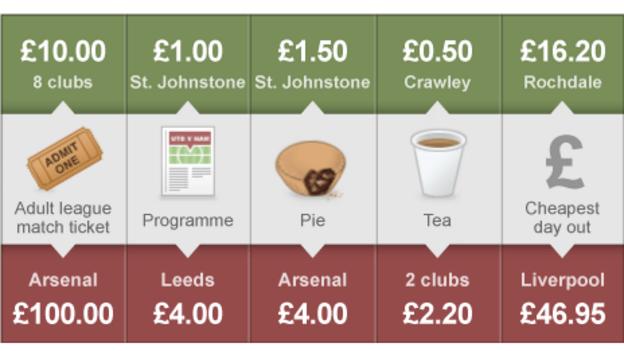 Only 11 out of 104 clubs in England and Scotland will offer adults the chance to enjoy a day at the football for less than £20 during the new season.
A survey by the BBC Sport website of every club in the four English divisions and Scottish Premier League showed that fans in the north west have some of the cheapest deals available for matchday tickets.
Clubs were asked for their cheapest and most expensive possible matchday adult tickets, as well as the prices for a cup of tea, a programme, and a pie in order to work out the price of enjoying a day at the football for fans without season tickets.
In the Premier League Blackburn Rovers offered the best deal at £17.50, while Watford's £17.30 represented the best deal in the Championship. Rochdale and Preston in League One and Rotherham and Torquay in League Two also came in cheapest in their divisions, while Inverness are the best value for money in the Scottish Premier League.
This weekend sees the start of the Football League season in England - a competition which attracted more than 16m fans across its three divisions last season.
John Nagle, head of communications at the Football League, said: "Football League clubs are working extremely hard to attract the next generation of fans through a variety of innovative marketing initiatives. As a result, crowds in recent seasons have been at their highest levels for 50 years."
"Much of the focus is on improving the matchday experience for supporters, particularly families. This has seen the League introduce a programme of 'mystery shopper' visits to matches in order to assess the experience and the introduction of the Family Excellence Award, to reward those clubs that are offering a particularly outstanding day out."
Despite the high attendance figures - an average of 352,260 fans attended Football League fixtures each weekend last season - the chairman of the Football Supporters' Federation Malcolm Clarke says clubs must work harder to ensure football does not become too expensive for ordinary fans.
"This is an industry that has more money going into it at the top of the game through media rights than it's ever had before," said Clarke.
"It's important that football continues to be attractive to the whole cross-section of society, so it doesn't just become something only middle-class and upper-class families can afford."
But despite the prices demand remains strong. Arsenal have the most expensive ticket in domestic football at £100 for one of five category A games for the new season - representing just 1% of tickets available. More than 60,000 fans turned out to watch them draw 2-2 with Boca Juniors in a friendly at the Emirates Stadium last weekend.
And a spokesman for the Premier League pointed out that fans are not being turned off by the expense.
"With Premier League grounds over 92% full on average in each of the last three seasons, fans are clearly enjoying the football, and the overall matchday experiences, that are on offer," said a Premier League statement.
"It is also worth taking into account that fans want to watch games featuring top talent in safe stadia; our clubs have invested more than £2bn in facilities and continue to invest heavily in developing and acquiring the best possible players to make the whole fan experience as good as possible."
But football matches compare favourably with other live sport. The cheapest day out at Super League side Hull FC is £27, while an equivalent day watching England's four-day victory over India at Trent Bridge would have cost at least £41.10.
Newcastle United were the only club out of the 104 surveyed who did not reveal their prices.
Additional reporting by Phil Dawkes and Chris Whyatt.