Jefferies rejects Hearts role as Sergio takes over
Last updated on .From the section Football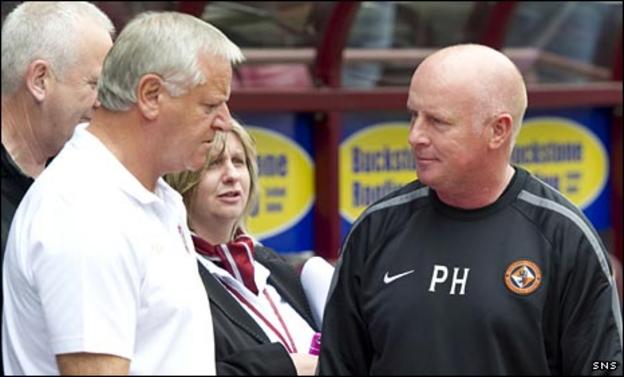 Jim Jefferies has not ruled out working for Vladimir Romanov again despite being ousted as Hearts manager and refusing a director of football role.
The 60-year-old was removed by the owner as manager after an 18-month spell and is being replaced by former Sporting Lisbon coach Paulo Sergio.
"They were pleased with a lot of things I did and that's why they offered me the position," said Jefferies.
"Maybe if it was a year down the line, but it was just maybe too soon."
Jefferies told BBC Scotland he would have felt uncomfortable stepping upstairs and working with the man who replaced him - and accepting a position while assistant Billy Brown was leaving the club.
His long-time colleague has been sacked, while first-team coach Gary Locke's position is under review as Sergio becomes the latest in a long line of managers during Romanov's seven-year tenure.
Jefferies was appointed boss at Hearts for a second time on 29 January 2010 after the departure earlier that day of Csaba Laszlo and led the club to third place in the Scottish Premier League last season.
However, they are without a win in 11 games since beating St Mirren 3-2 on 19 March.
Romanov was at Tynecastle on Sunday to see Hearts lose 1-0 to Dundee United, having started the season with a pair of 1-1 draws - away to Rangers in the SPL and at Paksi in the Europa League.
Jefferies defended his record, pointing out that many of the results at the end of the season had been draws and not defeats and that they had come after his squad was struck by injury.
"Mr Romanov never put me under any pressure to win the league," he said.
"I knew what the strategy was and I tried to carry it out to the best of my ability.
"They just said they wanted to go in another direction and you just have to take it on the chin and move on.
"It doesn't dampen you're enthusiasm to want to remain in it and that was probably one of the reasons I didn't take up the position of director of football."
Jefferies stressed that he was "a Hearts man" and would therefore hope that Sergio could lead the club to further success and would not rule out taking up another job at Tynecastle sometime in the future.
However, Scotland coach Craig Levein and assistant Peter Houston were critical of Hearts' decision.
Levein, who was in charge at Hearts before departing soon before Romanov took control, said: "I think Jim's a great manager and he brought a level of stability back to Hearts.
"I don't own a football club, I don't make the decisions at Hearts, but it's a disappointment for me that we've lost another good manager after a short period of time when he doesn't have enough time to put his ideas into practice."
Dundee United manager Houston added: "I think it's nothing short of disgraceful. I think he's started the season well.
"It's a sad state of affairs that two very, very talented coaches are out of a job simply because of the guy up top."