Fabio Capello admits England friendly is difficult
Last updated on .From the section Football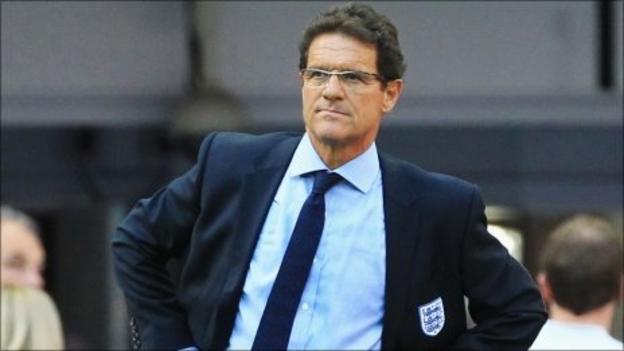 Manager Fabio Capello has admitted he does not know what to expect from England's friendly against the Netherlands at Wembley on 10 August.
England face the 2010 World Cup runners-up three days before the start of the Premier League
The Netherlands' 23-man squad includes 11 players who play in the German and Dutch leagues which start this weekend.
"I can't watch any of the players I need to choose. I don't know what level any of them will be," said Capello.
"I don't know what kind of form the Dutch are in.
"Those coming from [the German] Bundesliga are fit because they have already started.
"I don't know what will happen but they are a really good team and one of the best in the world."
"The timing is difficult. You need to ask Fifa, they decided this."
England play key Euro 2012 qualifying games against Bulgaria and Wales in September, and while in the past England friendlies have been used to experiment with new players, Capello insists he is taking the Holland game seriously.
"Now I need to prepare for the qualifying games," he added. "I make experiments if it's possible when the games are not so important, but this game is very important because we then have a really short time to prepare for the next qualification games."
Manchester United chief executive David Gill has also joined the growing call from Europe's leading clubs for changes to Fifa's fixture calendar.
United returned from their five-match tour of North America knowing that immediately after Sunday's Community Shield encounter with Manchester City at Wembley, they will lose players to international friendly matches.
"There are some issues," said Gill. "The way the calendar is constructed, the number of dates Fifa put in, insurance.
"There are no easy solutions. These things have been around for many years but if we can get together, it will be for the betterment of the game."
Capello's contract with the Football Association runs out after the Euro 2012 Championships and the 65-year-old is intending to go out on a high after England's disappointing performance at the 2010 World Cup in South Africa.
"I think my last year will be very good, I hope so. I try to make everything better," Capello said.
"I study, I prepare, I focus. I hope that at the end of my career we will win a trophy.
"I hope so because when you are a winner, you want to win something, not to lose."
Capello , with Manchester United's Danny Welbeck a surprise inclusion. Arsenal midfielder Jack Wilshire was also included despite an injury concern.