Arsene Wenger wants Cesc Fabregas to focus on Arsenal
Last updated on .From the section Football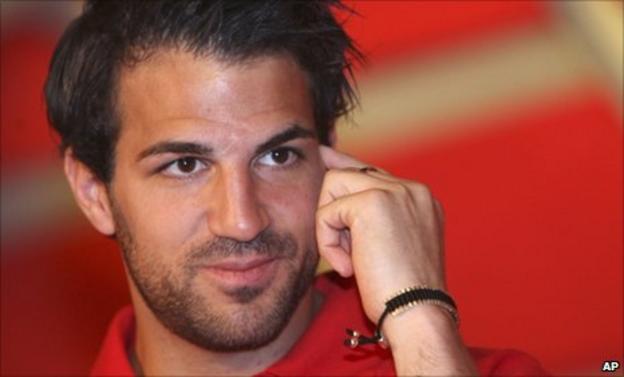 Arsenal manager Arsene Wenger says the speculation over Cesc Fabregas must end soon if the club captain is to focus properly ahead of the new season.
Fabregas, 24, has been linked with a move to Spanish and European champions Barcelona, who bid £27m for the Spain international midfielder in June.
"He is coming back from an injury and is not settled with us," said Wenger.
"You know all the speculation which is around his position, that has to be sorted out soon."
Arsenal will continue their preparations for the start of the Premier League season at the Emirates Cup on 30-31 July, but Fabregas, who has not featured in any of Arsenal's pre-season games, remains absent with a troublesome hamstring.
"I'm just worried that the player has to be completely focused and committed to our club," said Wenger. "At the moment he's coming back from an injury and we have to sort out that situation.
"He is the captain of our club and we have to make sure he is really focused on being with us."
The Frenchman admitted that he sympathises with Fabregas, who is tempted by a return to the club he grew up with.
"I don't master completely the situation - it depends on Cesc," said Wenger. "I think he's in a moment when he thinks about it and it is a big concern.
"I always say he is torn between two loves - the club where he has been educated as a very young boy and the club where he has been educated from 16 onwards and he has been given a chance.
"I personally can understand it, but of course we want to be certain about his complete commitment."
Wenger remains committed to getting the best price possible for Fabregas if he is forced to sell, and remains hopeful that Samir Nasri will sign a new deal as he enters the final year of his current contract.
"We have a responsibility towards our club and I have that responsibility to sell the players at a decent price, or I take money away from my club," said Wenger. "And that is not just to please one player."
He added: "Samir loves the club, like Cesc. They both do. Every day we read that they are going somewhere but they are still with us."