South Africa admits 'white elephant' fears
By Mohammed Allie
BBC Sport, Cape Town
Last updated on .From the section Football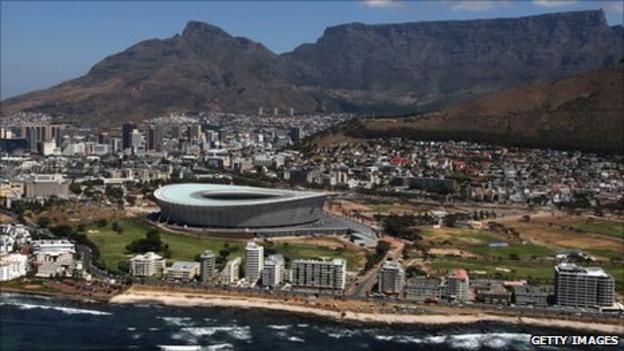 Danny Jordaan has admitted that officials could have done more to ensure the financial viability of six newly-built 2010 World Cup stadiums.
The 2010 World Cup organising committee was speaking as attentions turn to the 2014 World Cup with Brazil hosting the qualifying draw on Saturday.
Jordaan says officials should have engaged in more careful planning.
"We did not think it through and engage all the stakeholders, large and small," Jordaan told a conference in Cape Town.
Many of the newly-built stadiums, particularly those in Durban, Cape Town and Nelspruit, have faced major challenges in securing regular events to offset the high maintenance costs.
The magnificent Cape Town Stadium, which was built at a cost of some US$600m, has only been used for eight football matches since it hosted the World Cup semi-final twelve months ago.
Even as is the stadium that hosted the World Cup final - Soccer City in Johannesburg - is struggling to maintain its costs.
In his address to a Sports & Events Tourism conference, Jordaan added that the economic expectations of South Africans for the event were unrealistically high.
"We should have done more planning like this 10 years ago," he added, referring to the two-day conference.
Tony Ehrenreich, the ANC's leader in the Cape Town city council, said he welcomed Jordaan's admission but said it would make no difference as several people and organisations, including Fifa, had already walked away with hefty bonuses.
"It's good that there is an acknowledgement about the unnecessary expense on stadiums that they are struggling to use," he told BBC Sport.
"But like the (multibillion dollar) arms deal, huge sums of money that could have been used to alleviate the plight of the poor have already been spent and cannot be recovered.
"The authorities need to look at developing financial models to make the stadiums financially viable and accessible to ordinary people so that it could be used more frequently.
"And it wouldn't help anyone if the stadiums were to be demolished," Ehrenreich added, in response to some local fears.
Grant Pascoe, the Cape Town City Council's Mayoral Committee member for Tourism, Events and Marketing, labelled Jordaan's admission a 'huge and brave' statement.
"It puts many things into perspective, particularly the kind of pressure that government and cities were placed under," he said.
"In hindsight, Mr Jordaan is probably correct by saying that more thought should have gone into the planning and financial viability up front to make the hosting more affordable to the country's ratepayers.
"We're quite positive that there will be enough events to make the stadium viable.
"Over the next few months there will be regular events so that the stadium will be utilised more frequently."
Pascoe revealed that the city's authorities have appointed a business analyst to provide a viable financial model for the Cape Town Stadium.
"Rugby and soccer are central to our planning and at the end of this month, we will have another round of negotiations with the rugby authorities," he told BBC Sport.
"Rugby is in our sights as is one of the Premier Soccer League clubs to become anchor tenants."
The 2010 World Cup was the first to take place on African soil, with South Africa overcoming widespread pre-tournament fears to stage a successful championships.