Lesotho coach oozes confidence
Last updated on .From the section Football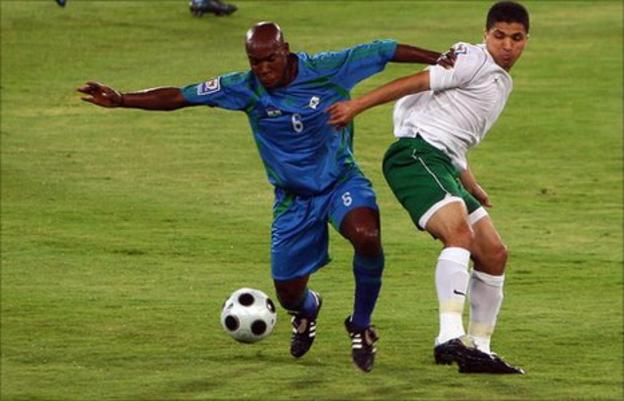 The coach given the task of leading Lesotho into the qualifying campaign for the 2014 World Cup believes his side are well-equipped for their return to the international stage.
Leslie Notsi has been named as the new man in charge of the tiny mountain kingdom after 'The Crocodiles' spent two years in the international wilderness.
Lesotho have not had a substantive national coach since the departure of Serbian Zavisa Milosavlyevic.
But the success of Notsi's under-20 side in reaching the finals of the African Youth Championship earlier this year has persuaded the Lesotho Football Association to reinstate the senior team.
They will now be entered into the draw for the preliminary round of African qualifying for the 2014 World Cup in Brazil.
Notsi is confident that a promising crop of young players are capable of causing a few shocks when the campaign for Brazil 2014 gets underway.
"I think we have the players who can surprise a few bigger teams," Notsi told BBC Sport.
"We are always much more comfortable being the underdogs and we always try to encourage the boys that they are good enough to compete."
Lesotho also qualified for the African Youth Championship in Benin back in 2005 and despite failing to make it past the group stages both then and in 2011, the new senior side should boast a good blend of youth and experience.
"I'm very excited and looking forward to the challenge," said Notsi.
"We know it won't be easy but we think we have some very good players coming through and some of the more experienced players who were around in 2005.
"Hopefully they can help the youngsters make the step up."
But with the 24 lowest ranked African teams due to play in the two-legged preliminary round in November, Lesotho will find it very tough to progress to next year's group stages.
However, Notsi believes Montoeli Sonopo's move to Spanish giants Atletico Madrid - the first player from the enclave to join a European club - has given local football a real boost in a country where training resources are scarce.
"It is fantastic for him but it also acts as motivation for the other boys in the squad.
"They know if they work hard there may be an opportunity for them to get a move to a big club in Europe or South Africa," he said.
"I spoke to Montoeli the other day and he is understandably very excited.
"He is a very good player who likes to take players on and he is very quick.
"With the smaller amount of resources that we have in Lesotho it is a real milestone.
"It shows that even when the resources are not there, it is possible for talent to emerge.
"Now that needs to be nurtured and taken care of so we can keep making progress like some of the other smaller countries in Africa have done."