Hibs boss Calderwood rues Stack goalkeeping error
Last updated on .From the section Football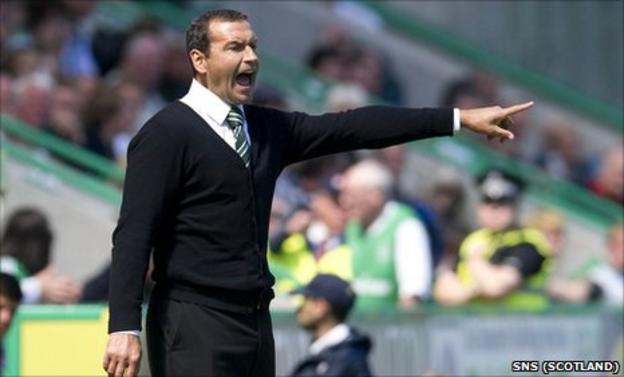 Hibernian boss Colin Calderwood lamented Graham Stack's goalkeeping error after the 2-0 defeat to Celtic.
Stack's slip-up allowed Anthony Stokes to open the scoring for the visitors and Ki Sung-Yeung added a second.
"Stack comes and he gets it in his hands and then he loses it," Calderwood told BBC Radio Scotland.
"The mistake for the first goal is then added to by the quality of the finish because that was top class by Stokes. You've got to applaud that."
Calderwood felt the loss of the first goal was crucial and was frustrated his side could not replicate the exploits of Edinburgh neighbours Hearts, who opened the scoring in their 1-1 draw with Rangers at Ibrox on Saturday.
"It's the toughest of tests, at home to one of the Old Firm or away," said Calderwood.
"Hearts got the first goal yesterday, which is a big thing in any game but especially against the Old Firm.
"It's come with almost their first entry into our box, that makes it frustrating.
"There were moments in the first half when we could have done with an extra man into the box but more or less I was happy with how they went about it.
"At the start of the second, we started to play somewhat fantasy football that was never going to gain you anything because we were putting the ball at risk too often.
"We've got to show a greater goal threat. Our organisation and the way the boys applied themselves was good, we just got into a wee rut of trying to do the same style of game and it wasn't working so we should've changed."
The Easter Road manager's future has been the subject of much speculation during the summer with Birmingham City and Nottingham Forest both interested in securing his services as an assistant manager.
"I'm sure it's been talked about, not that I've heard it or read it because it's not something that really concerns me but what does concern me is a perception that the fans might have," Calderwood said before the defeat to Celtic.
"But they'll listen to people who don't know and I know so I'm alright with it - and the group, it's not affected their training sessions, it's not affected where they think they can go as individuals and as a club.
"If people can't handle honesty or understand that then I wouldn't want to sit and lie if there are opportunities out there.
"But the same opportunities might be that the club doesn't want you.
"At the minute I want to be here and the club want me and that's a terrific situation."