Walter Smith backs successor Ally McCoist at Rangers
Last updated on .From the section Football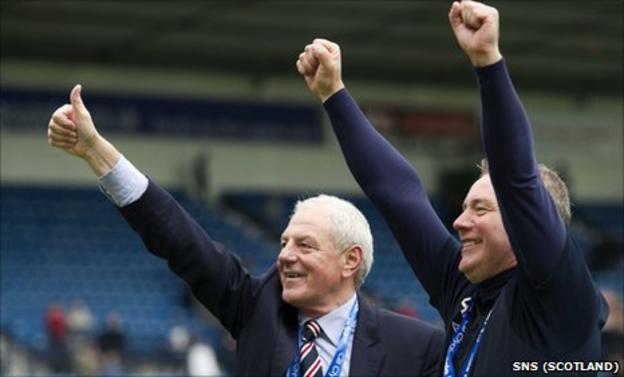 Former Rangers manager Walter Smith has tipped his successor Ally McCoist to continue the club's recent success.
"Alistair was part of the team that helped me enormously, he deserves his opportunity," said Smith.
"Rangers have to integrate some new players. Once that takes place, once everything settles down I'm sure Alistair will be extremely successful."
The Scottish Premier League has kicked off against a backdrop of criticism that the division is starting too early.
"I do think that that's a little bit of a problem," Smith added on BBC Radio 5 Live.
"In Scotland, they're a little bit concerned that because the teams now have to go into the European qualifiers basically without competitive games as Dundee United had to do during the week, it holds them back and it's currently causing problems with the European co-efficient.
"From my own point of view I would say one or two games is not going to make a great deal of difference.
"If Scotland are serious about that I would feel that they should maybe consider having a long winter break and a very short one in the summer time, which would mean that the teams are well into their season, as most of the Scandinavian teams are during the European qualifying games."
Smith remains open to the idea of returning to management but not in his homeland.
"Because of my age, everyone just takes into account that I'll be retiring but I never said I would retire," he added.
"I said I would just be leaving Rangers at the end of that season, which I think is still the right thing considering that the club changed ownership and it gave them an opportunity to have a new manager and a fresher start.
"I wouldn't manage again in Scotland. I've managed Rangers on two occasions now and I've managed the national team so I wouldn't manage in Scotland again.
"But if an opportunity came up abroad, in England or abroad, I would like to do or maybe if they would like me to do it, I would consider that."