Celtic's Neil Lennon condemns early SPL start
Last updated on .From the section Football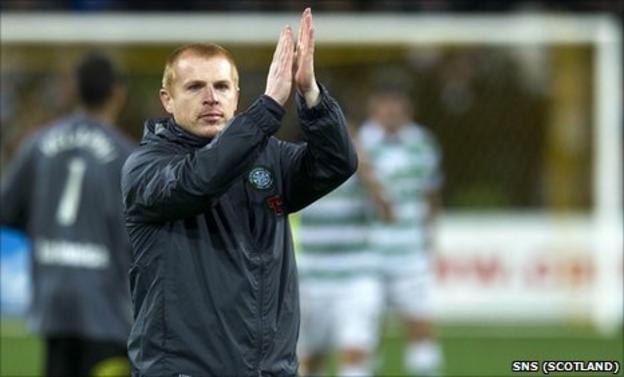 Celtic manager Neil Lennon has joined Terry Butcher in criticising the early start to the season.
"I can understand the reasoning or the thinking behind it. But some of my players have had a fortnight's break.
"Physically, they are all right, but you wonder about mental fatigue kicking in, maybe not now but later on in the season, so we have to be wary of that."
Celtic open their Scottish Premier League campaign with a visit to Hibernian's Easter Road Stadium.
"We are going to have to negotiate Sunday as best we can, get through that hopefully and get a positive result," said Lennon.
"We have prepared as best we can.
"It should be a good atmosphere, the pitch should be in good condition and we hope to pick up the tempo as quickly as possible."
Neil Doncaster, chief executive of the SPL, told BBC Scotland that fans and clubs are split on the appeal of the league's earliest ever start.
He said: "There are many supporters who favour summer football and like the idea of an early start.
"There are some of our clubs that were keen to have an even earlier start than now, starting at the beginning of July.
"There are other clubs that would be keener to start at a time that is more similar to the English.
"We can reflect on how it goes and see what supporters think and take a view about next year, which is different because you've got the European Championships and the Olympics which make a very early start a bit more challenging."
The quick return to action means last season is still fresh in the mind and Lennon was yet again quizzed about his spat with then Rangers assistant manager, Ally McCoist - now manager at Ibrox - at Parkhead in March.
It was followed by a summit being convened by First Minister Alex Salmond in a bid to address the disorder surrounding Old Firm games.
Lennon admits he cannot guarantee passions will not boil over again this term but insists there was an over-reaction last time.
"You would try to avoid it," he said. "I'm not making any promises that that won't happen again, but I'm sure that it won't.
"Passions run high. We need to keep a lid on things.
"Everyone has a responsibility towards calming things down - managers, players and media and maybe not make mountains out of mole hills when it comes to certain incidents.
"I've seen football this week in South America where 22 players are having a go and that is at international level in one of the biggest competitions in the world.
"It's not isolated to Glasgow.
"But we have spoken to the referees about the situation and we have the police coming to brief the players. We know what we can and cannot do.
"We all aware of the greater responsibility going in to the season."
Lennon, who last season was also subject to death threats and was attacked by a fan at Tynecastle, is hoping the focus remains on his players as they try to take the title back from Ibrox.
"We played some brilliant football, but that seemed to be a side issue with all the nonsense that went on," he added.
"So I am hoping that for the majority of the time this year everyone is talking about the team."
Lennon revealed that goalkeeper Stipe Pletikosa will remain on trial at the club for another week and confirmed that South African striker Katlego Mphela and Ivory Coast forward Boubacar Sanogo will arrive on trial next week.