Mark Lawrenson backs Luis Suarez to shine for Liverpool
By Phil McNulty
Chief football writer
Last updated on .From the section Football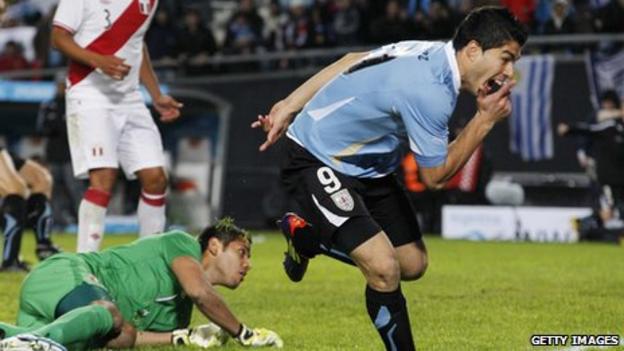 Mark Lawrenson believes Liverpool may have pulled off "the sale of the century" by persuading Chelsea to pay £50m for Fernando Torres.
And the former Reds defender is backing Luis Suarez, who was brought in to replace Torres, to help the club qualify for the Champions League.
Kenny Dalglish paid £22.7m to sign Uruguayan Suarez from Ajax in January with some of the cash raked in from the sale of Torres and has now spent more than £100m revamping Liverpool's squad in readiness for the new campaign.
And while Torres has struggled at Stamford Bridge following his move to London, Suarez has wasted little time illuminating Anfield.
Lawrenson told BBC Sport the two deals could be the key to putting Liverpool back in the top four.
"I do feel the sale of Torres may turn out to be the sale of the century," he said. "I just feel there is something about Torres in his body language and his make-up. He has always been the main man at the clubs he's been at and I look at him and he's not the same player.
"The sale has allowed Liverpool to replace him and rebuild and the American owners have brought more players in as a statement of intent that the club is heading in the right direction again. When the fax came through to say Torres had gone and it was £50m, I would be surprised if Liverpool didn't have a party."
Suarez came at less than half the price but Lawrenson believes the exciting striker, who scored twice in Uruguay's 2-0 win over Peru in the Copa America semi-finals on Tuesday, has the potential to have a similar impact on the Premier League as Cristiano Ronaldo did at Manchester United.
He said: "Suarez is the big one for me. Lots of people have arrived at Liverpool and people have said 'they remind me of Dalglish'. Yet they never were because Kenny was so special. Suarez might just be the closest.
"He's got all the ability in the world and a real mean streak. He is a top player. I think he might be a bit like Cristiano Ronaldo at Manchester United. He could just take off and in a couple of years' time you might be talking about a £60m player.
"Kenny's eyes light up when he talks about him. He's got that little bit of everything and when you see goals like he scored at Sunderland last season you ask yourself 'how's he done that?', which was another trait Dalglish had.
"He's got great ability. He is very aware of everything, a real team player a handful to play against and, like all South Americans, can really look after himself.
"Players like Diego Maradona and Carlos Tevez found themselves getting booted on a regular basis but were tough and could give it back. Suarez is the same."
Striker Andy Carroll arrived at the same time as Suarez, while Jordan Henderson, Charlie Adam and Stewart Dowing have also been acquired as Liverpool's new owners, the Fenway Sports Group, back Dalglish heavily in the transfer market.
And Lawrenson believes they can now threaten Arsenal's place in the top four, saying: "I think they have got a chance of the top four because of the players they have signed.
"I'm not sure about Arsenal with all the uncertainty over Samir Nasri, Cesc Fabregas. They still haven't addressed the problems people have been telling them to address for years, such as in central defence.
"I think the top three might be beyond Liverpool, but I certainly think what they've done so far this summer can put them in contention for the Champions League places again."