Joe Ledley hopes for warm welcome on Cardiff return
Last updated on .From the section Football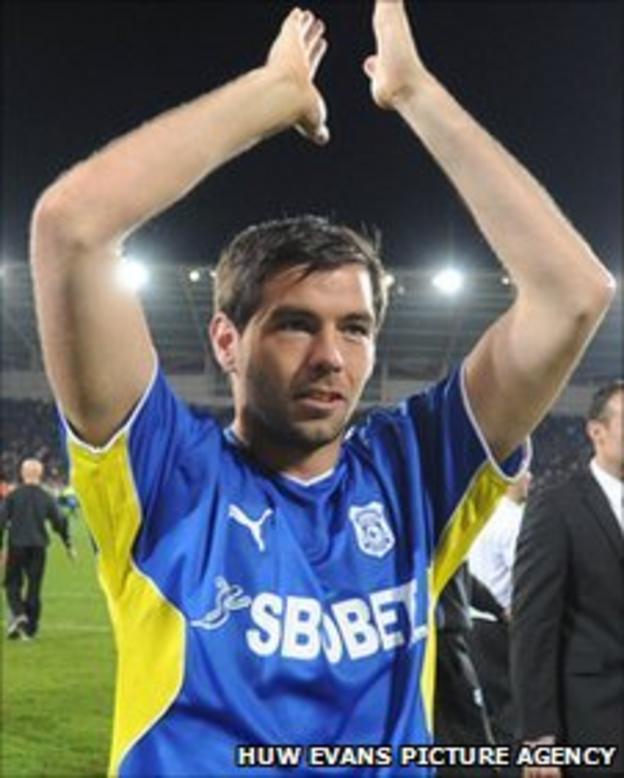 Joe Ledley is hoping for a warm reception when the Celtic midfielder returns to Cardiff City for the first time since leaving his home-town club.
Ledley and Wales team-mate Adam Matthews go back to the Cardiff City Stadium when the Welsh club host Celtic in a pre-season friendly on Wednesday.
"It will be interesting to see what kind of reaction I will get from the crowd," said the 24-year-old.
"Hopefully I will be cheered for what I did for the club and achieved there."
Ledley joined Cardiff's youth ranks at the age of nine and in his more than 250 games, he helped inspire the Championship club to the 2008 FA Cup final.
The life-long Bluebirds fan, once hailed as Cardiff's 'Steven Gerrard', joined Scottish giants Celtic on a free transfer after his Cardiff contract expired in the summer of 2010 following their play-off final defeat to Blackpool.
"For me it's big and it's going to be the same for Adam," the Wales international said.
"I never thought I would have the opportunity to play against Cardiff so it's going to be a great honour for me and my family and they will be there as well.
"I have played there before with Wales but it's going to be a bit different against Cardiff."
Adam Matthews followed Ledley's path from south Wales to Parkhead this summer after the right-back's Cardiff contract expired.
And former fans' favourite Ledley admits that a section of the Cardiff fans that once adored him may not welcome his return.
"You never know, some fans might boo me," he said
"I enjoyed my time but just felt it was the right time to move on.
"I have a lot of friends and family in Cardiff who supported me," he said.
"I was really friendly with the people at the club and obviously I wanted them to do well and get promoted but it just didn't happen.
"I keep in touch with Mark Hudson, Stephen McPhail, and Peter Whittingham - who I saw on holiday - and some of the staff too.
"They will always be good friends of mine and I am looking forward to playing against them. As long as we go there and get the win I will be happy."