Norwich City boss Paul Lambert casts aside predictions
Last updated on .From the section Football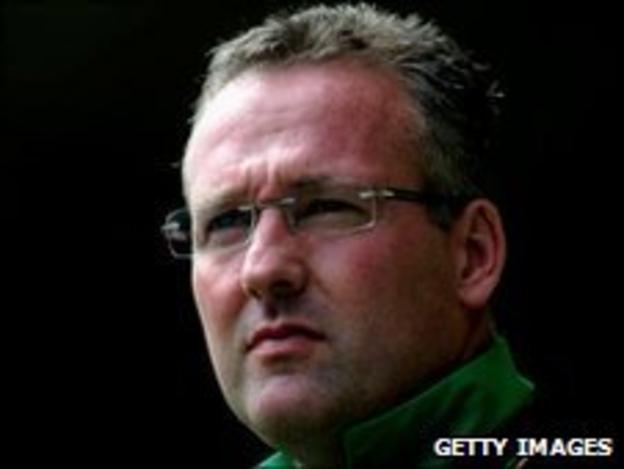 Norwich City boss Paul Lambert has said he will not draw on the Canaries' underdog status to rally his side in the Premier League this season.
Last term's Championship runners-up have been tipped for an instant return to the second-tier.
But Lambert told BBC Radio Norfolk he would be dismissing pundits' predictions: "I don't really bother.
"That's me being truthful, as long as the lads, the club, the fans are right, that's all I need on my side."
The Scot's mission to build a squad capable of surviving in the Premier League has so far seen six players arrive at Carrow Road, one short of his target of seven signings.
And while the City boss has not ruled out more additions, he said he was satisfied that his current crop can cope in the top flight.
"I won't just buy someone for the sake of bringing them in," he explained.
"I'm delighted with the squad that's here at the minute, if you can improve you try and do it.
"I've got six in, which is roughly the number I said we'd need, there might be room for manoeuvre somewhere along the line, but I'm delighted with the group.
"I think they know how big a task it is and how big the league is and we'll do everything we can to stay in it."
The Canaries, who beat Gorleston 7-0 in a friendly on Saturday, will now head to Germany for a pre-season training camp.
"We'll train as hard as we can and get everybody gelling together and get everybody fit," Lambert added.