Arsene Wenger irked by 'disrespectful' comments from Xavi
Last updated on .From the section Football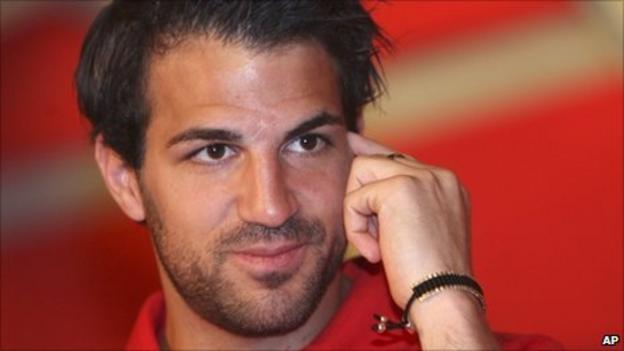 Arsenal manager Arsene Wenger has branded Barcelona midfielder Xavi "disrespectful" for stating that Cesc Fabregas wants to leave the Gunners.
"I believe a mutual respect between the clubs should stop this kind of comment," Wenger said.
"If it's true then it's disrespectful and it's not the first time that Xavi has been disrespectful to Arsenal."
Xavi, 31, had earlier stated that Fabregas wanted Arsenal "to let him leave".
"I spoke to Cesc in Ibiza and he told me he was suffering because he wants to come.
"That's what he most desires. He has done everything to come and he wants Arsenal to let him leave."
Fabregas, 24, joined Arsenal in 2003 having developed his skills in Barcelona's youth system. In June, the London club rejected an offer from Barca for their captain.
Barcelona initially revealed they had made an approach for Fabregas via their Twitter feed on Wednesday morning.
Injury has meant that the Spain midfielder has not joined the Gunners for their current tour of the Far East, which they began with a 4-0 victory over a Malaysia XI on Wednesday.
"Cesc loves the club and hopefully we will manage. We know that this story for Barcelona has gone on for years now - we have to close that and focus on the season, hopefully with Cesc Fabregas," Wenger said.
Another Gunners midfielder, Samir Nasri, has also been linked with a move away from the Emirates, although the Frenchman did play for 25 minutes during the pre-season friendly.
"We are a big club with many good young players so we are confronted with many rumours and speculation, but it doesn't affect much what's happening inside the club," said Wenger.
"We have to live with that and you could see when he [Nasri] played that he wasn't disturbed by that. He has always had a very good attitude."