Liverpool delay decision over Anfield refurbishment
Last updated on .From the section Football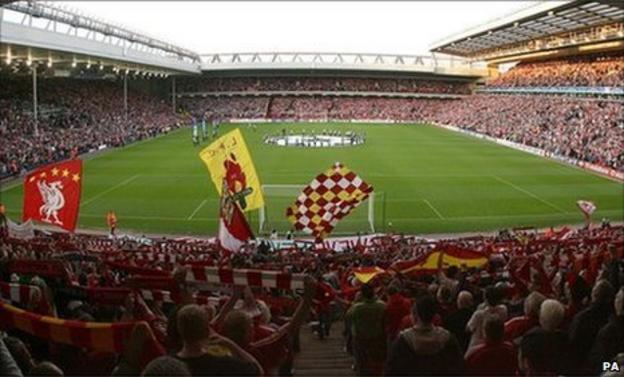 Liverpool chief executive Ian Ayre has insisted the club will not be rushed into any decision regarding a potential move away from Anfield.
Ayre had said on Sunday it was looking "increasing unlikely" that the Reds would be able to redevelop their current ground, with a move to nearby Stanley Park a more realistic option.
But speaking on Tuesday, Ayre refused to rule out either possibility.
"We'll make the right decision at the right time, whatever that is," he said.
"No amount of pressure will force Liverpool Football Club to make a decision quickly for the wrong reasons.
"We've all seen and felt and discovered how the wheels can come off if you make the wrong decisions at a football club, particularly this one. With regards the refurbishment, the type of work that's been going on [in the last nine months] has been developing plans and drawings that look at what is possible with Anfield, and that has incorporated a study into the extension of the main stand and a study into the extension of the Anfield Road End.
"Both of these, if successful, could deliver a 60,000-plus seater, which would be great, but it comes with whole other challenges and whole other areas we have to investigate."
The club have long been looking at ways to increase capacity at Anfield from 45,000 to 60,000 in order to better compete with the matchday revenues of the likes of Manchester United and Arsenal.
But Ayre has defended the club's right to take time over a decision whether to move or redevelop, despite last month claiming that the failure of previous owners Tom Hicks and George Gillett's to deliver on their promise of a new stadium had "set the club back several years".
"They [Liverpool owners Fenway Sports Group] are their own people and so they should be. They'll do what they think is right for Liverpool Football Club.
"While a lot of people, particularly residents, feel a little bit aggrieved that it's been a long process, and we understand that, for these people who are now trying to make this happen, it's been very short."
Ayre also revealed any potential move to a new stadium would also throw up a number of issues, including the naming rights to a new home for the five-time European Cup winners.
"On the new stadium it's been about finding the right economic model," he added.
"I know a lot of our fans and other people have said to me personally 'why can't we just build it'? We get lots of people who are desperate to come and watch Liverpool, but what people don't think of a lot of the time is that we don't get 60,000 new seats when we build a stadium - we only get the difference between Anfield currently and whatever we build.
"Many, many people are working on it [stadium naming rights] but it's not just about finding a partner, it's about finding the right partner - somebody who fits with the football club, as our other partners do.
"While our business development has been strong, we've been very selective, and that would also be the case with naming rights. It just takes time. It's a big world, there are a lot of brands - we just have to find the right one."
On Thursday, Reds owner John W Henry said on Twitter that there were "so many obstacles" preventing the refurbishment of Liverpool's home of the past 119 years.
Hicks and Gillett had hoped to build a new stadium in Stanley Park but Henry, whose Fenway Sports Group successfully redeveloped Boston Red Sox's Fenway Park stadium, favours an upgrade of Anfield.
Still, Ayre said on Sunday: "In the nine months since the new ownership, an enormous amount of work has been undertaken to explore the building of a new stadium as well as exploring a refurbishment solution.
"In terms of a Stanley Park stadium versus redevelopment, there is absolutely no question that a refurbishment of Anfield would come at a significantly lower cost than a new build.
"It's disappointing that based on where we are at the moment, we seem to be unable to press on with the more viable economic option of a refurbishment, but we remain committed to finding the best possible long-term solution."
Liverpool City Council leader Joe Anderson added: "We fully appreciate that the new owners have made real progress over the past nine months since they took over, and we will continue to support what they are trying to deliver.
"However, it is unfortunately the reality that the debate and discussions over a new stadium have gone on for many years, causing a great deal of frustration and uncertainty within the local community.
"Although we are fully supportive of the club, we can't ignore the fact that the clock is and has been ticking, and people need certainty about the development.
"We will be pressing for a decision as soon as is practically possible that will benefit Liverpool FC and deliver the much needed regeneration that the area so badly needs."