Fifa is looking for Nigerien referee Ibrahim Chaibou
Last updated on .From the section Football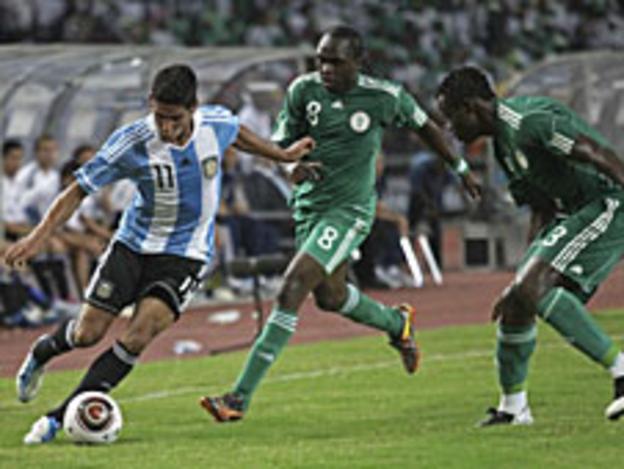 Fifa's security chief is trying to locate Nigerien referee Ibrahim Chaibou, who officiated a friendly international that is being investigated for match-fixing claims.
"We are trying hard to track down the referee and we are confident that we will succeed," Fifa's head of security Chris Eaton said.
Nigeria were leading the game 4-0 until Chaibou awarded Argentina, who fielded a second-string side, a penalty for handball in the eighth minute of injury time.
This was despite the fourth official having indicated just five minutes of injury time.
Television replays showed the ball had hit a Nigerian player's shin.
While the score was 4-0 to Nigeria, a huge amount of money in the Asian gambling markets was bet on a fifth goal being scored in the match.
Chaibou has been involved in controversial games before.
He was in charge of the match last September where Bahrain beat a fake Togo team 3-0, which is also being investigated for possible match-fixing.
In May 2010, Chaibou awarded three controversial penalties for handballs as South Africa beat Guatemala 5-0 in a World Cup warm-up match.
On Tuesday the South Africa Football Association said it hoped that game was not affected by match-fixing but added it would help Fifa if the latter decided to investigate it.
Chaibou has been on the Fifa international referees list since 1996 but must stand down this year after reaching the mandatory retirement age of 45.