Women's World Cup: USA and Sweden earn opening wins
Last updated on .From the section Football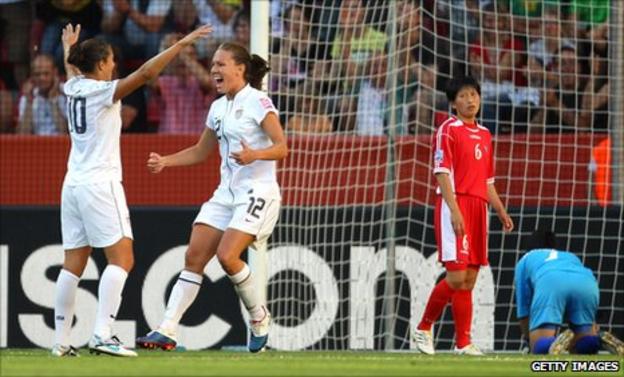 North Korea's coach blamed his side's 2-0 loss to the United States on his players getting struck by lightning in the build up to the Women's World Cup.
Kwang Min Kim claimed that some of them were hospitalised with electrocution after a training match on 8 June.
Tournament favourites United States recovered from a slow start to to take maximum points in their Group C opener.
In Tuesday's other Group C match, Jessica Landstrom's 57th-minute goal earned Sweden a 1-0 win over Colombia.
Before the match, Colombia's reserve keeper Yineth Varon was suspended after failing a drugs test taken on Saturday.
North Korea - the youngest team in the tournament by average age - started well in Dresden, but eventually conceded when Lauren Cheney completed a swift move with a well-timed header before Rachel Buehler converted with 14 minutes remaining.
"When we stayed in Pyongyang during training our players were hit by lightning, and more than five of them were hospitalised," said coach Kim, without naming the affected players specifically.
"Some stayed in hospital and then came to Germany later than the rest of us. The goalkeeper and the four defenders were most affected, and some midfielders as well. The physicians said the players were not capable of participating in the tournament.
"But World Cup football is the most important and significant event for a footballer, so they don't want to think about anything but football.
"The fact that they played could be called abnormal, the result of very strong will."
Sweden - another of the tournament favourites alongside the US - struggled in the 32C heat in Leverkusen, but Landstrom ensured maximum points when she tapped in Lotta Schelin's pass.