Angel Rangel signs three-year extension deal at Swansea
Last updated on .From the section Football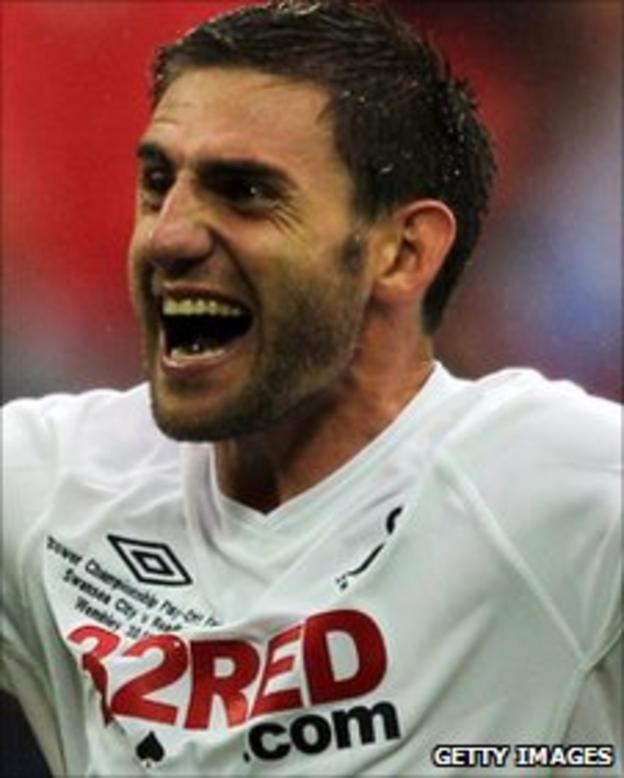 Angel Rangel has ended speculation over his future by signing a three-year contract extension with Swansea City.
Swansea chairman Huw Jenkins said: "There has been interest from Premier League clubs in Angel.
"But he is very pleased to have achieved his dream of reaching the Premier League with the club he left his native Spain for."
Right-back Rangel joined from Spanish side Terrassa in 2007.
The 28-year-old's contract was due to expire at the end of June, leading to fears he could follow De Vries and Pratley in leaving on a free transfer if he could not agree a new deal.
Jenkins added: "We are very happy to secure Angel's future for the next three years.
"He has played a big role in the club's success since he arrived here, and we were very keen for him to be part of our plans going into the Premier League."
Jenkins has said that contract negotiations with players had become complex since they won promotion to the top flight.
"Moving to the Premier League is going to bring its new challenges and that's something we obviously anticipated and we will learn very quickly," he said.
"A lot of the talk is not really about the salary, it's about the relegation clauses in contracts.
"That's something that is pretty much on everybody's focus when you're talking about contracts these days and it's something we've got to get used to."
Jenkins has insisted the club will not consider selling Wales defender Neil Taylor unless the price is right.
The Swans have rejected an undisclosed offer from Newcastle for the 22-year-old former Wrexham player.
"Neil is contracted to our club," Jenkins said. "We look forward to Neil coming back in training on July 11th with the rest of the players.
"The only thing that can change is Newcastle's thoughts on it.
"If they want to purchase any player from us, obviously as in any transaction they have to reach our valuation.
"The same would be if they were moving a player. That's never going to change, that's the basis of a transfer. That's how clearly we see it.
"Unless we get an offer in for any of our players that we find too hard to turn down [then] every contracted player will stay with our club and will be playing for us in August in the Premier League.
"That's not going to change as far as I'm aware and that's how it should be."