Fifa concern over delay in Brazil World Cup preparation
Last updated on .From the section Football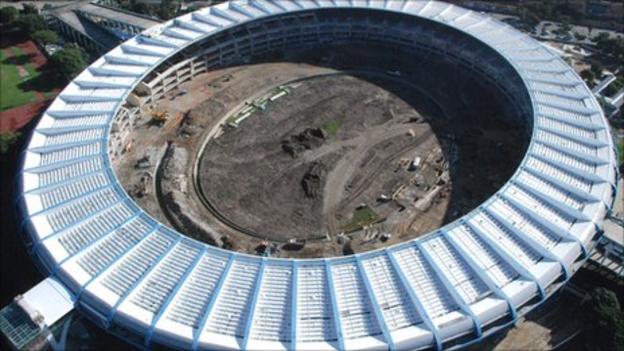 Fifa secretary general Jerome Valcke is concerned Brazil has fallen behind schedule with its preparations for the 2014 World Cup.
A new stadium in Sao Paolo will not be ready for the 2013 Confederations Cup, seen as a World Cup dress rehearsal.
Airports and transport links are also reportedly behind schedule and Valcke said: "I won't say Brazil started too late but we are not advanced in Brazil.
"We don't have stadiums, airports, or a national transportation system."
Brazil are the most successful World Cup nation with five victories, but the country has been much-criticised for its planning since winning the rights to host its first tournament since 1950.
"To deliver stadiums is the most important part... it's a lot of work. The Sao Paulo stadium is definitely not a World Cup stadium and that is why it is closed," Valcke said.
Valcke was addressing Russian officials in Moscow who will host the 2018 World Cup tournament, and informed them they should aim to have everything in place two years before the start of the event.
Alexei Sorokin, chief executive of Russia's World Cup organising committee, told the forum the 2016 deadline was "absolutely realistic," despite having to build or renovate every stadium.
"We have to build a lot. We have never hid the fact that we do not have a single stadium that is up to Fifa standards," he admitted.
Russia has nominated 13 host cities for the event, a figure that will eventually be reduced, while estimating the total bill for new infrastructure at $10bn (£6.26bn).