Andrew Taylor could be swayed by Cardiff - Tony Mowbray
Last updated on .From the section Football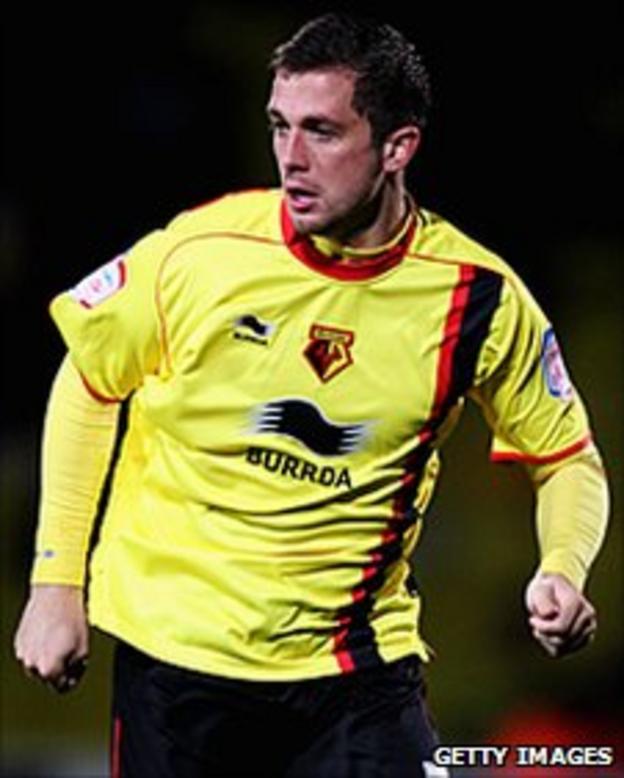 Middlesbrough manager Tony Mowbray believes new Cardiff boss Malky Mackay could tempt Andrew Taylor to join the Bluebirds on a free transfer.
Taylor, 24, spent part of the 2010-11 season on loan under Mackay at Watford.
Mackay tried to sign Taylor on a permanent basis for Watford and Mowbray believes Cardiff's reported interest in the player is genuine.
"I'm pretty sure there will have been conversations between Andrew and Cardiff," said Mowbray.
Mackay failed in his attempt to keep Taylor at Vicarage Road as the player returned to Middlesbrough in early January after his four-month loan spell.
The defender, whose contract expires at the end of June, impressed during that spell, making 19 appearances and scored his first professional goal - a left-footed volley in Watford's 3-0 win over Portsmouth a day before his loan deal came to an end.
After returning to Boro, Taylor praised Mowbray's influence since succeeding Gordon Strachan as manager in October.
The defender has often stressed that Boro is in his heart, but Mowbray believes Mackay has made Taylor one of his prime targets.
"I know Malky very, very well and I'm pretty sure as soon as Malky got that [Cardiff] job he was on the phone [to Taylor]," said Mowbray.
"The boy's got some decisions to make - that's quite plain.
"And I think Cardiff are a different financial football club to Watford.
"They could probably match if not better what we could probably offer financially."
Mowbray understands Mackay's admiration for the Hartlepool-born player, who can play in defence and midfield.
"Andrew, for me, is more than just a footballer - he's three footballers, if you can say that, for this club," he added.
"He showed that at the end of the season playing at left back and in the games that the team won - they won the last four games - with Andrew at left back.
"He spent most of the time in midfield, in a three-man, a four-man midfield, [so he's] a very versatile player and I would like to sign Andrew Taylor."
Mowbray says he faces hurdles to succeed in that ambition, but says Taylor's decision will not be made purely on financial grounds.
He said: "In any deal there's more than just the manager and the player involved.
"There's a few other issues that need solving and resolving and we need to work our way through them.
"Having spoken to the boy over the summer it's not just financial for Andrew... when he went off on loan to Watford, he forsook some of his own money just to go and play football.
"It's not all about money for Andrew Taylor.
"I think he wants to be in the right place and be at the right club and there are some issues we are trying to work through.
"I think on football terms Andrew would like to be here and I would still hope that that's the case, but the next week or so will decide that."
In 2009, Taylor launched a website aimed at helping fellow professional players avoid being ripped off or receiving bad service.
Mackay made his first signing as Cardiff manager on Thursday by securing Craig Conway on a free transfer from Dundee United.
The Cardiff boss is also hoping to tempt the Scottish club with an offer for striker David Goodwillie.