Hearts stick with 'sorry' Craig Thomson
Last updated on .From the section Football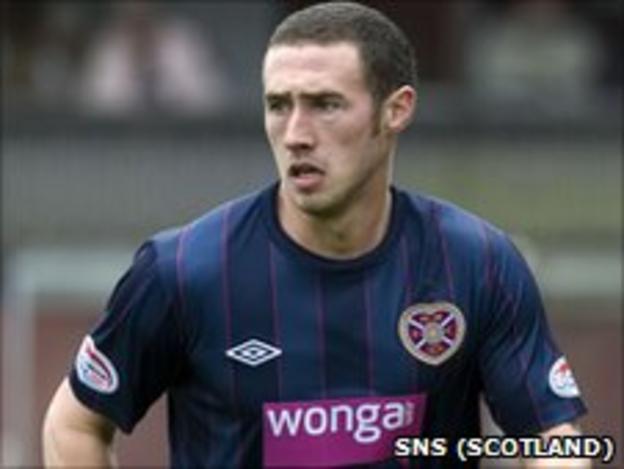 Craig Thomson will continue his career with Hearts after he was placed on the sex offenders register.
The player has apologised for his crimes and Hearts said his "grave error of judgement" was due to "naivety and possible wrong outside influence".
The 20-year-old will resume training at the club with immediate effect.
However, Thomson will not be with the rest of the first-team squad when they fly out to their Italian training camp on Saturday.
The full-back issued an apology via the club website, saying that he is "fully aware that I have let everyone down".
He added: "I personally make no excuses for what I did but I would like to thank the club for studying the entire circumstances around the matter.
"I am fully aware of the extreme pressure the club faced from individuals and organisations that were not in full possession of the facts surrounding my situation.
"My aim now is to move on and develop my career and I know this will only happen with the support of my family, friends and the club."
Hearts posted two statements on the matter on their website. The first read: "The club views this matter very seriously and does not condone the behaviour of the player. Appropriate action to prevent any further development of unlawful activities has been taken.
"In reaching this decision, the club accepted that there are sufficient mitigating circumstances that provide significant assurance that the player's conduct, no matter how distasteful, was the result of a grave error of judgement due to naivety and possible wrong outside influence rather than anything more sinister and it will not be repeated."
Then, early on Friday evening, the club issued another statement which refers to "outside influences on players and the club".
A section of the statement said: "What's happening with the club today is not a new thing.
"For almost seven years we have been fighting to shield the club from crooks, criminals and thieves.
"Many of the top players at the club have felt the bitter results of the swindles that have been carried out with them on their own skin. Skacel and Webster have returned to the club after realising where these 'football patriots' have led them.
"Every year Hearts fights to be in the top three, but even last season in the last 12 games of the season it was almost like someone replaced the team with a different one.
"Whose fault is that? Players'? Manager's? Or it is mafia."
Meanwhile, Icelandic international defender Kari Arnason will travel to Tuscany for a trial period.
The 28-year-old has been with Plymouth for two years but has been released due to the financial problems the League Two club are encountering.