Andre Villas-Boas 'can outdo Jose Mourinho' at Chelsea
By Jonathan Stevenson
BBC Sport
Last updated on .From the section Football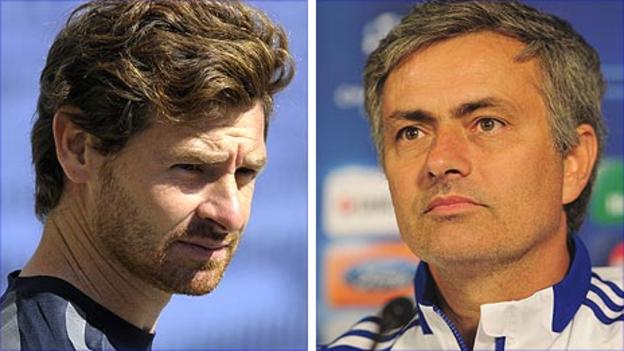 Former Inter Milan star Olivier Dacourt has said new Chelsea boss Andre Villas-Boas can be better than Jose Mourinho.
Dacourt worked with both men when Mourinho was in charge at the San Siro and rates the 33-year-old highly.
"Andre can be a better manager than Mourinho," Dacourt told BBC Sport. "We have seen the student outgrow the teacher in the past and this can happen now with Villas-Boas at Chelsea.
"He learned much from Mourinho but is very different. He is more human."
Former Porto boss Villas-Boas was named Chelsea manager on Wednesday, seven years after Mourinho was appointed to the Stamford Bridge hotseat.
Mourinho presided over two Premier League title successes before being sacked in September 2007, going on to win two Serie A titles and a Champions League with Inter before joining Real Madrid in 2010.
But Dacourt, who witnessed the duo in action together at Inter while Villas-Boas was a member of Mourinho's backroom staff, firmly believes the younger man - who won four trophies in his only full season as a manager at Porto - can improve on his mentor's success.
"From what I have seen, Villas-Boas has taken the best bits of Mourinho and added to them," said Dacourt. "He has also learned some things he shouldn't do from Mourinho and that's why I think he can be better.
"We should respect Mourinho because he is a truly great coach and has won everything, but Villas-Boas wants to win games with attacking football and is his own man.
"He will definitely be a success at Chelsea, no doubt. You can see what he did at Porto in the last 12 months, so it is an exciting time to be at Stamford Bridge."
Dacourt also brushed aside worries about Villas-Boas's age - at 33, he is only a matter of months older than influential players Didier Drogba and Frank Lampard.
"He is young, but he knows so much about his job already," added Dacourt. "And as well as being a top coach, he's a fantastic person.
"I had some problems with Mourinho, but Villas-Boas always acted like nothing had happened. When a player has a problem with the manager it usually affects relationships with all the coaching staff, but he was brilliant.
"He has a great human touch and the players all loved him."